DAP treasurer Prof Ong Kian Ming has hailed International Trade and Industry Minister Tengku Datuk Seri Zafrul Abdul Aziz who turned up to campaign and ensuring that DAP's Sungai Pelek candidate Lwi Kian Seong won in the Malay majority state constituency during the recent six state polls.
This is because Sungai Pelek is a 60% Malay majority seat while DAP fielded a local Chinese candidate against a relatively well-known Perikatan Nasional (PN) candidate Suhaimi Mohd Ghazali who was a former local UMNO leader.
"The cooperation between PH and BN at the leadership and grassroots level was also enhanced by the presence of state and national leaders campaigning together in N56 Sungai Pelek," the former Bangi MP pointed out in a media statement to illustrate Sungai Pelek as good example of Pakatan Harapan-Barisan Nasional (PH-BN) cooperation.
"I experienced this when MITI Minister Tengku Zafrul came to Sungai Pelek to campaign for the PH candidate Lwi Kian Seong together with Ng Sze Han, the DAP Selangor state secretary who was recently sworn in as Selangor EXCO.
"Zafrul was able to mobilise the local UMNO leadership and grassroots to throw their support behind the PH candidate."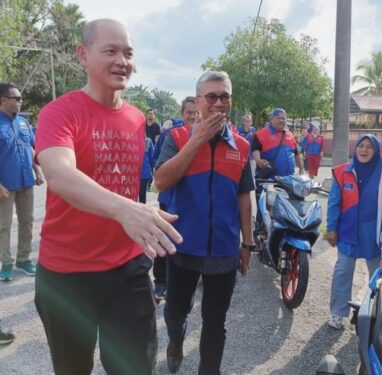 Elaborating further, Ong stated that PH would not have been able to win the Sungai Pelek seat without UMNO's support in the Malay majority areas of Jenderam Hulu, Salak, and Hulu Cucuh.
"While there was some hesitancy on the part of some UMNO members to work with and campaign for PH in the first week of the campaign, a certain comfort level was reached by the second week of campaign," he observed.
Dubbed the most difficult seat for DAP to retain in the Selangor state poll, the very fact that PH managed to win Sungai Pelek with an almost 1,500 majority and with 51.8% of the popular vote in the context of a rising PN and a weakening BN is surely a sweet victory for the PH-BN alliance.
"It cannot be denied that there was a big swing in the Malay support in N56 Sungai Pelek from GE15 (15th General Elections) to PRN 2023 (six state polls)," observed Ong.
"According to my estimates, the Malay support for PN increased from 51% in GE15 to 75% in PRN2023, an increase of 24%. Approximately, 20% out of the 25% of Malay support given to BN-UMNO in GE15 swung to PN in PRN2023." – Aug 22, 2203