MALAYSIA has no new and drastic economic policy implemented since 10th Prime Minister (PMX) Datuk Seri Anwar Ibrahim commenced his navigation of the country's administration in Putrajaya.
As such, Opposition leader Datuk Seri Hamzah Zainudin (main pic) said domestic and foreign conglomerates are confused about the government's strategies to boost the country's economy post the COVID-19 pandemic.
According to the Larut MP who is also Bersatu secretary-general, the Opposition has requested the government to take appropriate measures to boost Malaysia's economic sector in view of heightened concerns over current contraction in the global economy.
"Many people are saying that there is no clear economic policy in place, hence they are wondering what the main policy that will serve as backbone of Malaysia's economic development is today (currently)," he pointed out on the first day of the Dewan Rakyat's second meeting of the second session of the 15th Parliament.
"The Madani Budget (2022) that was tabled on Feb 24 did not provide proper direction because it does not have a clear target for success."
To make matters worse, Hamzah said the state of confusion deteriorated when the government continued to waver on the issue of tenders that had been announced by the previous Perikatan Nasional (PN) government under former PM Tan Sri Muhyiddin Yassin.
He stressed that due to the urgent need for flood mitigation initiative to be carried out notably in states such as Kedah, Kelantan, Terengganu and Johor, several projects were approved through open tender.
Therefore, measures by the unity government to switch from the open tender system to the fast-track method and then limited tender have caused many parties to be confused, including implementing agencies and investors.
"When the decision was made not to hold an open tender, suddenly some people said that the fast-track approach ended up being a limited tender," highlighted Hamzah. "This is something that also confused the implementers themselves, thus will affect the trust of investors from within and outside the country."
Nevertheless, Anwar who is also the Finance Minister denied the existence of such confusion because Malaysia's economic growth in 1Q 2023 has outpaced that of Indonesia, Vietnam and China judging for its gross domestic product (GDP) performance.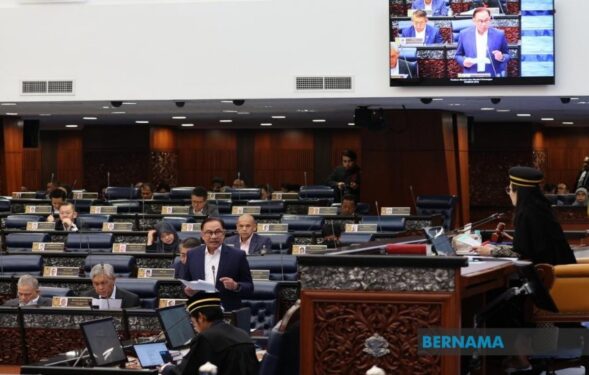 In fact, the Tambun MP and Pakatan Harapan (PH) chairman stressed that the country's economy growth of 5.6% in 1Q 2023 also superseded the Bank Negara Malaysia's (BNM) forecast of between 4% and 5% for 2023.
In addition, approved investments in 1Q 2023 reached RM71.4 bil or 60% increase from 1Q 2022, thanks to contribution from Geely (PROTON's Chinese partner) and electric vehicle manufacturer Tesla.
"If our policies are confusing, we would not have seen investments coming and these are serious investments. Following my visit to China, Geely decided to accelerate the Automotive Hi-Tech Valley (AHTV) project in Proton City, Tanjung Malim," noted Anwar.
In addition, he added that the confidence in the government's economic management is proven by credit rating agencies Fitch Rating's and Moody's Investors Service's affirmation of Malaysia's sovereign credit ratings in February and April this year respectively. – May 22, 2023