HUMAN Resources Minister Datuk Seri M. Saravanan remains dumbfounded over the overwhelming criticisms of his handling of the shortage of foreign labour in the country.
These criticisms are coming directly from his stakeholders who are overwhelmingly frustrated that the Government cannot solve a simple problem: filling up jobs with workers.
It was recently reported that the National Chamber of Commerce and Industry of Malaysia (NCCIM) and Malaysian Builders Association Malaysia (MBAM) said the slow arrival of workers would further derail business recovery and sustainability of operations as the country continues to recover from the COVID-19 pandemic.
These contractors said that their cash flows are getting tight due to slow progress at sites, stemming from labour shortage.
The Malaysian Employers Federation (MEF) has also called out the Government for its "flip-flop" policies and urged the Immigration Department to clarify its latest policy requiring employers hiring foreign workers to receive them at the Kuala Lumpur International Airport (KLIA) upon arrival.
Another not-new complaint is that the oil palm industry is losing billions in revenue due to this shortage.
I also want to draw attention to inconsistent statements by Saravanan as alleged by Datuk Dr Marzuki Mohamad, a former principal private secretary to former prime minister Tan Sri Muhyiddin Yassin.
Saravanan said Muhyiddin, who is chairman of the National Rehabilitation Council (MPN), did not receive the latest report regarding the hiring of foreign workers.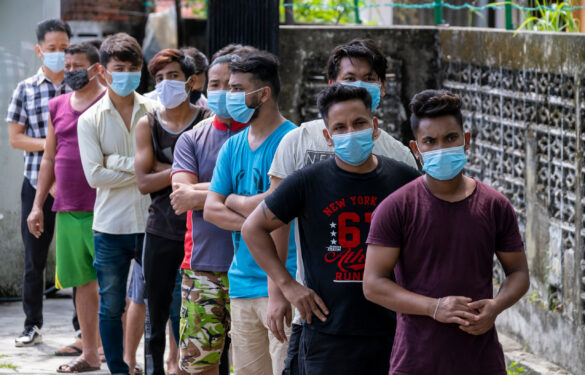 This, however, was disputed by Marzuki, who said that the individual present to give briefings at each MPN meeting was a senior Human Resources Ministry official.
Is Saravanan blaming this on this official? Is this official not reporting the latest developments to MPN?
With Saravanan's leadership of the Human Resources Ministry, there are more questions than answers, and there are more frustrations than solutions.
Warning signs were clear
The warning signs were clear when we learned that only 76,000 foreign workers were successfully brought in out of more than 400,000 applications.
Besides that, reports suggest that 10,000 foreign workers from Bangladesh will be brought in on a "special basis" and not through the Foreign Worker Centered Management System (FWCMS).
Is this the reason behind all these delays? Are we moving back to "special approvals?"
On top of all of this, the minister has the gall to blame Pakatan Harapan for this current mess, despite helming the post longer than I did.
In fact, as per my question in Parliament in August, the minister revealed that the Government enforced a moratorium on the entry of foreign workers from March 2020 to April 2022.
So how is this Pakatan's fault when you had already taken over the Government after dismissing the people's mandate in the 14th General Elections (GE14)?
It is due to this moratorium that the adverse impact on the current shortage of workers is telling.
It is also unfortunate that the almost two-year gap was not used to plan, execute and mitigate the potential pitfalls once the economy kicks into full gear.
Did the minister consult with his stakeholders before deciding on this moratorium? Did he consult his stakeholders at all?
We also know that he has failed to conduct the tripartite National Labour Advisory Council (NLAC) meeting on a monthly basis.
Therefore, it is hoped that the minister would take full responsibility for his inability to read the signs of the times or forecasted potential crises related to the recruitment of foreign workers that has severely affected the capacity of our industries to produce more goods for import, resulting in billions of ringgit worth of losses to companies and the nation. – Oct 1, 2022

M. Kula Segaran is the DAP MP for Ipoh Barat and a former human resources minister. 

The views expressed are solely of the author and do not necessarily reflect those of Focus Malaysia.