PAKATAN Harapan has decided against holding state polls in the three states it controls alongside federal polls, despite calls by DAP Penang to reconsider its position on the matter.
The Pakatan-led state Governments in Penang, Selangor and Negeri Sembilan will instead focus their attention on mitigating the floods expected to hit the country during the northeast monsoon season, which will start in mid-November.
This was announced by Pakatan chairman Datuk Seri Anwar Ibrahim today following a special meeting of the coalition's presidential council and the dissolution of Parliament on Monday (Oct 13).
Anwar thanked Pakatan's partners in Penang for relaying their concerns to DAP secretary-general Loke Siew Fook, who, in turn, raised them to the attention of the Pakatan presidential council.
The PKR president said while these were valid views as they came from those who represent the people and Pakatan allows for open discussions, the coalition decided to stick to their guns and not hold concurrent state and federal polls.
This, the incumbent Port Dickson MP explained during a press conference alongside Amanah president Mohamad Sabu and Loke, is for two main reasons.
"Firstly, we reject the Government's decision to force elections at a time when the rakyat are in a difficult spot as they are facing the (prospect) of floods.
"Secondly, we want the Government machinery – one that is valid and has the mandate, not a caretaker Government – to focus all their attention, not on the elections, their position or political strategies, but on preparations and strategies to reduce the burden of flood victims."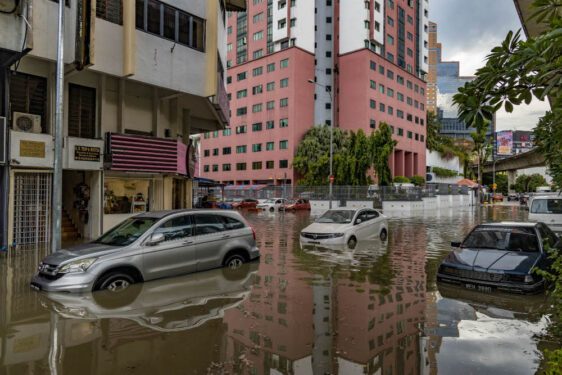 Anwar added that while PKR and Amanah have not wavered in their position against holding concurrent state and federal polls during GE15, DAP "required time to explain its position."

"Decided to maintain the same position"
"But finally, Loke decided that Pakatan and the three Pakatan states will hold the same position in postponing the state elections to focus on mitigating flood-related problems."
Loke, on the other hand, said DAP's central executive committee convened twice last week to discuss DAP Penang and Chief Minister Chow Kon Yeow's request for Penang to be allowed to dissolve its state assembly.
He added that extensive consultations and discussions were held and he personally understands the sentiments of the state chapter and voters about incurring additional costs for separate polls and not wanting to go out twice to vote.
"I want to acknowledge and put on record that DAP Penang, inclusive of all its people's representatives, almost unanimously agreed that they should be given leeway to dissolve the Penang state assembly," the incumbent Seremban MP added.
"I understand these sentiments. But as (DAP) secretary-general, I had to make a tough decision: to disappoint my own friends in DAP. 
"Because I know that if we make a decision for the Penang state assembly to be dissolved but not the Selangor and Negeri Sembilan state assemblies, that will be seen as breaking ranks within Pakatan," Loke explained.
He said this would then be "weaponised" by the coalition's enemies by making it seem that Pakatan is not united and cannot make collective decisions. 
As such, given the critical juncture at hand, with polls expected within one month's time, Loke said he is not willing to provide anyone with "bullets" to use against the party, and apologised for disappointing DAP Penang.
He added that the dissolution of Penang's state assembly will be done next year once the northeast monsoon season ends. – Oct 15, 2022
Main photo credit: Pakatan Harapan