COINCIDING with its 5th-year anniversary, Paradigm Mall Johor Bahru is now recognised as the first-ever premier festive mall, an acknowledgement bestowed by the Johor state government for the mall's efforts in driving in tourists and being one of the favourite travel destinations that integrates cultural heritage and modern retail.
The recognition was made during the memorandum of understanding (MoU) signing ceremony between Paradigm Mall JB and the Johor Tourism Interchange (JTI) which signified JTI as the malls' Digital Marketing Partner and reaffirms the commitment to promoting the tourism-retail industry, especially on the latest activities, and unique attractions in Johor.
Being a property under WCT Malls Management Sdn Bhd, Paradigm Mall JB capitalised on the opportunity to showcase Johor's unique culture and attractions in a bid to allure locals, Singaporean and international tourists to visit Johor where they can have the best shopping experience while they immerse in an array of offers, exhibitions, performances and activities.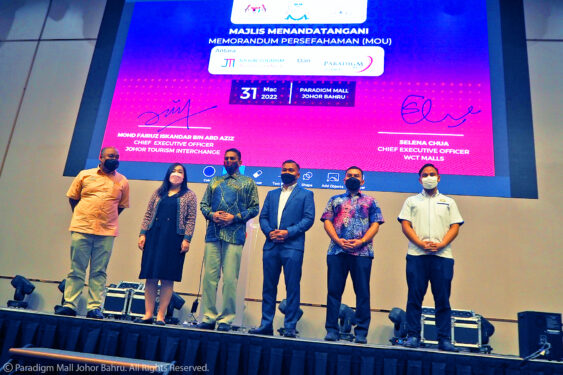 "This is indeed an extremely proud moment for us, as Paradigm Mall JB is being recognised as the Premier Festive Mall, the first and only one in Malaysia," said WCT Malls Management CEO Selena Chua.
"Alongside the mall's wide range of entertainment, fashion, services and F&B options, we will continue to live up to this recognition and create amazing experiences for our shoppers in a bid to become one of the must-go travel destinations in Johor."
Chua continued to elaborate that as one of the largest regional malls in Johor, Paradigm Mall JB fulfils the shopping and entertainment needs of Johoreans and neighbouring communities, offering unique lifestyle experiences such as an indoor climbing gym, ice skating rink and state-of-the-art cinema, all under one roof.
Meanwhile, HDA Digital CEO Mohd Fairuz Iskandar Abd Aziz added: "With the border reopening soon, our key priority is to welcome tourists back to Johor with exciting promotions across the hospitality, retail and tourism sectors." – April 2, 2022