HUNDREDS of fans were in attendance when celebrity entrepreneur Paris Hilton was at Sogo shopping centre in Kuala Lumpur yesterday (Sept 14) to launch her latest fragrance – Ruby Rush.
Perhaps the authorities were hoping to spot 1Malaysia Development Bhd (1MDB) fugitive financier Jho Low a.k.a. Low Taek Jho among the many autograph hunters and fans taking selfies with the hotel heiress.
To refresh, Jho Low first came to notoriety when pictures of him enjoying the high life abroad in the company of celebrities were splashed in local media almost a decade ago.
Questions then emerged as to who was this then unknown businessman seen rubbing shoulders with Hollywood glitterati.
More pertinently, how was he able to afford such a jet-set lifestyle? That's when the 1MDB scandal broke and it can be traced back to that famous image of the rotund embezzler popping champagne with Paris Hilton.
Early last year, a New York court was told that Jho Low had a penchant for the high life and "partied like there was no tomorrow".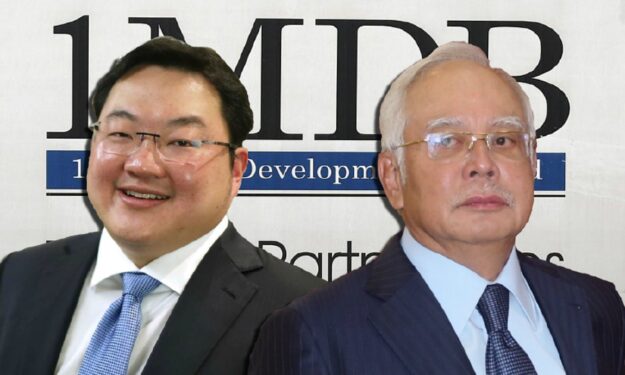 Arranging for lavish parties in exclusive locations, Jho Low allegedly paid for the company of these celebrities.
Apparently, Paris Hilton got US$$100,000 for agreeing to party with Jho Low, the court was told in proceedings against Goldman Sachs employee – Roger Ng – implicated in the 1MDB scandal.
However, Low's high-flying world came crashing down around him in October 2016 when Interpol published a red notice at Singapore's request to locate and arrest him.
He has since been charged in Malaysia and the US for allegedly masterminding the theft of US$4.5 bil from state fund 1MDB and is an international fugitive.
Speculation remains rife as to his whereabouts and authorities have had no leads for his arrest.
At the launch of her latest fragrance, Paris Hilton who was overwhelmed by the response from her fans said it was perhaps time to organise another concert. She had previously performed in Malaysia in 2015.
Funny no one sought to ask if she had seen her "chubby buddy" of late. The Malaysian public would be extremely grateful if she could somehow help flush out the fatty fugitive to answer the long overdue charges against him. – Sept 15, 2023
Main pic credit: Wilayahku