PAS Selangor through its Perikatan Nasional (PN) coalition has announced the appointment of engineer Low Lee Leong, 46 (main pic), as special officer for non-Malay affairs to the Selangor State PAS Commissioner Datuk Dr Ahmad Yunus Hairi.
This comes about as the Islamist party is seriously preparing itself to be an alternative to the Pakatan Harapan (PH) and Barisan Nasional (BN) mixed government in the forthcoming 2023 State Election, according to its Selangor state information secretary Roslan Shahir Mohd Shahir.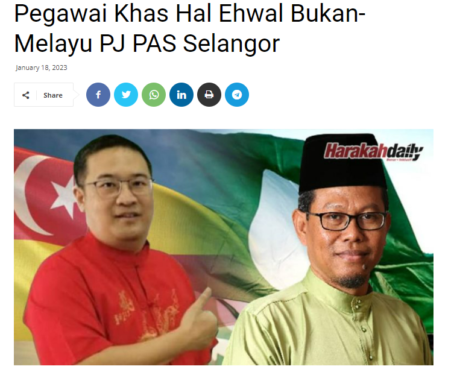 "This is in realising that Selangor is a multi-racial and multi-cultural state with almost 39% of its population being non-Malays or Bumiputera and as part of its quest to serve and represent the interests of all the people in this state," Roslan told PAS mouthpiece Harakah Daily.
Among others, Low will be tasked with assisting Ahmad Yunus to approach the non-Malay community by establishing and building relationships between PAS Selangor and the non-Malay communities, non-governmental organisations (NGOs) and interested bodies which comprised the Chinese, Indians and others races.
"Brother Low who holds a Bachelor's degree in Aeronautical Engineering from Universiti Putra Malaysia (UPM) together with his team is expected to be able to give the true image and perspective of PAS to the non-Malay community in Selangor," shared Roslan.
"This is with the hope that they will understand better and not hesitate to vote for PAS and PN in the Selangor state election 2023." – Jan 18, 2023