HISTORY was created in Penang with 11 Perikatan Nasional (PN) candidates emerging victorious in the Aug 12's six state elections.
All the 11 newly-elected state assemblymen – seven from PAS and four from Bersatu – took their oath of office yesterday (Aug 29). They are:
Muhammad Fauzi Yusoff (Sungai Dua) who is also the Penang PAS commissioner;
Zulkefli Bakar (Penanti) who is also the Penang Bersatu head of leadership body;
Mohd Yusni Mat Piah (Penaga);
Bukhori Ghazali (Pinang Tunggal);
Azmi Alang (Telok Ayer Tawar);
Amir Hamzah Abdul Hashim (Permatang Pasir);
Izhar Shah Arif Shah (Seberang Jaya);
Mohd Sobri Salleh (Permatang Berangan);
Muhamad Kasim (Telok Bahang);
Nor Zamri Latiff (Sungai Bakap); and
Mohamad Shukor Zakariah (Pulau Betong).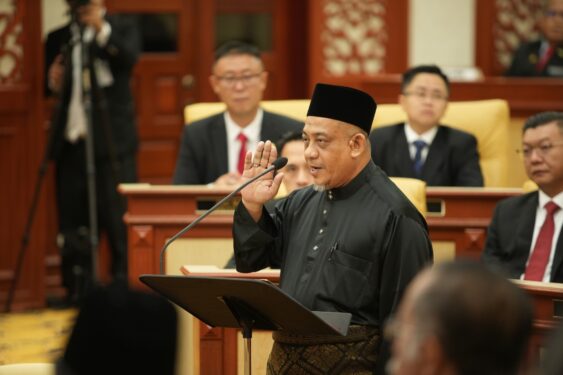 Although the Pakatan Harapan-Barisan Nasional (PH-BN) alliance managed to retain its two-third majority in the 40-member assembly, it has to be borne in mind that PH commanded a supermajority of 37 seats in the 14th General Election (GE14) held on May 9, 2018.
At party-level, DAP won all the 19 seats it contested, while PKR took seven seats, Amanah (one) and UMNO (two).
Within the PN coalition, PAS emerged the most dominant party in the recent state elections by clinching 105 seats out of a total 127 contested (83% success rate) while Bersatu won 40 out of 81 that the party contested (49% success rate).
Their non-Malay/non-Muslim ally, Gerakan, won a solitary seat in Kulim from 37 seats that the party contested (3% success rate).
PAS retained Penaga through Yusni Mat Piah, and won six other seats through new faces, namely Permatang Berangan (Mohd Sobri Saleh); Sungai Dua (Muhammad Fauzi Yusoff); Permatang Pasir (Amir Hamzah Abdul Hashim); Pinang Tunggal (Bukhori Ghazali); Sungai Bakap (Nor Zamri Latiff); and Pulau Betong (Mohamad Shukor Zakariah).
Bersatu won in Teluk Ayer Tawar (Azmi Alang); Penanti (Zulkefli Bakar); Telok Bahang (Muhamad Kasim); and Seberang Jaya (Izhar Shah Arif Shah). However, the party failed in its challenge in seven other seats: Komtar, Batu Maung, Padang Lalang, Bagan Jermal, Sungai Acheh, Bertam and Seri Delima. – Aug 30, 2023
Main pic credit: PAS Pulau Pinang Facebook