RECENTLY Barisan Nasional (BN) chairperson Datuk Seri Ahmad Zahid Hamidi alleged that five of the coalition's component leaders are on the 'waiting' list to be charged in court, indirectly indicating that the coalition was truly marred by corruption. 
While Zahid himself is no saint, having been brought to the court for 40 charges of receiving bribes worth RM42 mil Ultra Kirana Sdn Bhd (UKSB) to extend its foreign visa system (VLN) contract, his accusation towards his BN counterparts comes as a huge shock of someone who is exposing his own coalition, now more during an impending 15th General Election (GE15). 
To add salt to the wound, Zahid said that it was not only an UMNO 'Court Cluster' but a BN 'Court Cluster' and named all the five; UMNO deputy president Datuk Seri Mohamad Hasan, UMNO Datuk Seri Hishamuddin Hussein, MCA President Datuk Seri Dr Wee Ka Siong, MIC President Tan Sri S.A. Vigneswaran and MIC Deputy President M. Saravanan to be found guilty of corruption.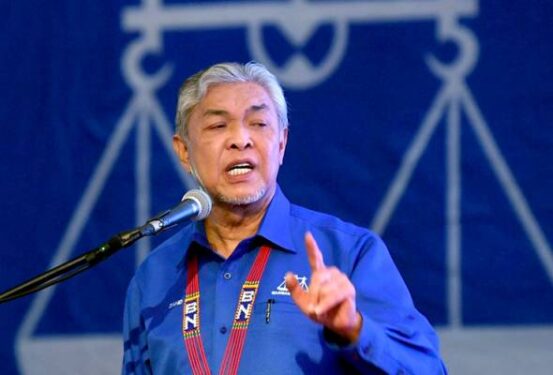 With BN tarnished by corruption, PAS President Tan Sri Abdul Hadi Awang said the Islamic party is now postponing its cooperation with UMNO for GE15 due to certain unresolved issues within their respective parties citing murkiness over some cases of alleged bribery, therefore denying enmity with UMNO. 
"We are aware that there have been cases in which its leaders have been accused of bribery, then were proven not guilty, claiming they were slandered instead. So we postponed our cooperation in hopes to clarify the allegations," Malay daily Sinar Harian quoted Hadi Awang as saying. 
PAS instead has reaffirmed its commitment to Perikatan Nasional, a BN splinter despite the many challenges to cooperate with UMNO in upholding the Malay unity. However, the UMNO leadership insists that it will not work with PAS so long as it is aligned with Bersatu, evident in the East Coast states where UMNO and PAS will face each other in 27 constituencies. 
It may look like PAS is sticking to its principles as an Islamic party by clearly rejecting the ills of UMNO. Hadi Awang was firm in his stance saying the party outright rejects those who give and take bribes. 
While PAS has made their stand clear, what do UMNO members think of Hadi Awang's reasoning? UMNO is intending to use the Malay sentiment to push for votes, the same goes for PAS.
Never forget that Hadi Awang had cast the non-Muslims and non-Bumiputeras as being the root of corruption.
"In fact the majority of those involved in ruining the country's politics and economy, were non-Muslims and non-Bumiputeras," he was reported as saying. To which in a u-turn Hadi Awang denied that he said so, stating his statement was taken out of context. 
With the possibility of no cooperation between the two parties, can PAS and UMNO extend their Malay unity agenda? – Oct 14, 2022
Main photo credit: Malay Mail