A VIRAL letter from the service centre of a PAS MP requesting a local council's "help" to provide waste management services, tables and chairs and flower decorations for his daughter's wedding has come under fire from netizens.
In the Sept 20 letter, Bachok MP Nik Mohamad Abduh Nik Abdul Aziz informed the president of the Kota Bharu Municipal Council (MPKB) about his daughter's upcoming nuptials today in the car park of the Masjid Tok Guru and Sekolah Menengah Agama (Arab) Darul Anuar.
"In connection with this, the cooperation of the municipal council is requested to provide waste management services, chairs and tables, flower decoration and appropriate traffic control enforcement for the programme in question.
"Your cooperation and quick action are preceded with our thanks," the letter concludes.
The letter was received by the municipal council and signed off by MPKB president Rosnazli Amin.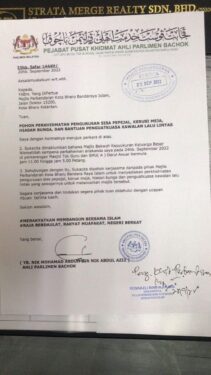 News portal Getaran confirmed the authenticity of the letter with a source, while Malaysiakini reported Rosnazli as saying that the council received the letter.
However, he reportedly played coy when asked if the application was approved, saying: "I did not even stamp my approval."
Many on Twitter criticised the lawmaker's decision to request MPKB to provide such services through his service office – paid for with public resources – when it was a private event.
Some recommended that he hire a wedding planner and caterer instead.
However, others pointed out that local authorities do provide such services and questioned the hoohah.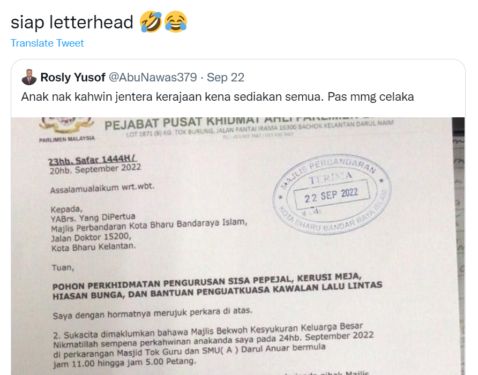 "Bring back your father's legacy"
Johor PKR leader Omar Mokhtar A Manap noted that the Bachok MP's father, the late PAS spiritual leader Nik Abdul Aziz Nik Mat, was known for rejecting the many privileges he got when he was Kelantan menteri besar.
This was especially so if that privilege was for his personal use.
"Hope Ust Nik Omar can bring back the legacy of Tok Guru who is loved by the people, God willing," he tweeted yesterday (Sept 23).
Others agreed with Omar:




One netizen questioned the eleventh-hour request:


As of press time, Nik Abduh has not responded to the mounting criticism against him. – Sept 24, 2022
Main photo credit: Bernama