ONE wonders whether it is a sin for PAS' top brass to be so obsessed with their TikTok account to the extent of perhaps 'worshipping' the social media platform.
Their world seems to revolve around TikTok which has excelled as an undisputed propaganda machine for the Islamist party to perpetuate its green wave ideology by reaching out to its youthful supporter base.
In fact, the latest PAS' obsession with TikTok came to the fore yesterday (July 16) when its warlord-cum-caretaker Kedah menteri besar Datuk Seri Muhammad Sanusi Md Nor cried foul that the authorities had blocked his official TikTok account, hence prompting him to create a new one, @sanusimdnor74.
However, a check by FocusM shows that Sanusi's original official account, @sanusimdnor, is accessible at the time of writing.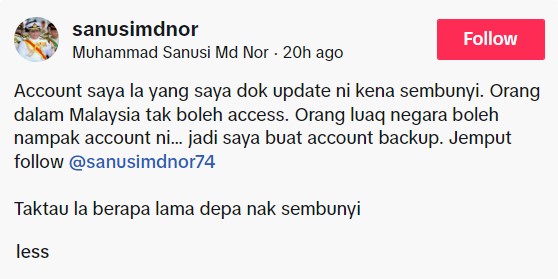 In a speech at Sik (Kedah) on Saturday (July 15), the Perikatan Nasional's (PN) election director claimed that his TikTok account had been blocked, hence preventing him from furnishing clarifications against slanders that have been levelled against him from being uploaded.
"That's the risk if you want to be popular. We can't go on TV, they don't let us. We can't get on the radio. You can only enter TikTok and Facebook," lamented Sanusi while labelling the Pakatan Harapan-Barisan Nasional (PH-BN) alliance which spearheaded the unity government as "North Korea" which restricts media freedom.
In retaliation to Sanusi's claim, the Malaysian Communications and Multimedia Commission (MCMC) clarified that no order was given to block the former's TikTok account.
"The MCMC confirms that no instructions were received regarding this issue. Social media platforms have community guidelines that determine if action can be taken against any user automatically if there are any such breaches or based on complaints by the public," MCMC pointed out in a statement.
"Community guidelines such as these set expectations, promote inclusiveness and reduce harmful or unsavoury content that could disturb public harmony."
While it cannot be immediately ascertained if the TikTok account of the Kedah PAS deputy commissioner was blocked by the service provider itself (TikTok), what is obvious is that Sanusi was unable to respond to slanders and accusations thrown against him that ranged from the issue of his brother's bungalow to allegations of the Malaysian Road Records Information (MARRIS) fund abuse and rare earth elements (REE) theft.
"I was shot at five times alone today from the bungalow case to other cases while tonight (July 15), it was regarding the REE case," regretted the motor mouth PAS leader in HarakahDaily. "They tie your hands and legs, then tell us to fight. If they are not cowards (anak jantan), they should return my TikTok." – July 17, 2023
Main pic credit: HarakahDaily