PASIR Mas MP Ahmad Fadhli Shaari has strongly condemned the action of the Youth and Sports Ministry to suspend Hanis Nadiah Onn from representing the national hockey team on any international assignment, including the SEA Games Cambodia 2023.
This action is very harsh compared to the offence she is alleged to have committed, not to mention that the player herself has publicly apologised for the offence while having deleted her social media comment, according to the PAS Youth chief.
"The Investigation Committee itself has admitted that Hanis has a humble character and was highly disciplined throughout training and tournaments," Ahmad Fadhli pointed out in a reaction published by PAS mouthpiece HarakahDaily.
"Even her coach himself stated that she has many hockey friends among the Indians and they get along without problem due to her easy-going nature with her teammates. This means that what is written does not have the intention of raising racist and racist elements as claimed by some netizens."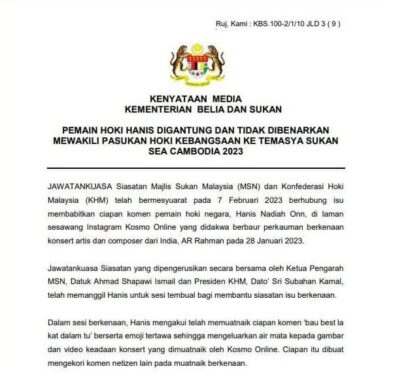 For context, Hani has been indefinitely suspended by the Youth and Sports Ministry from representing the country—including at the upcoming SEA Games 2023 in Cambodia—over her racist remark about the concert of famous Indian composer AR Rahman.
According to the ministry, the decision was taken by a joint committee formed by the National Sports Council (MSN) and the Malaysian Hockey Confederation (KHM).
Hanis has left a comment on an Instagram post related to Rahman's concert at the Bukit Jalil Stadium on Jan 28, implying it would have been "smelly" in the 70,000-strong crowd.
She subsequently posted an apology on her Instagram story after her comment courted backlash while remarking that during her decade-long involvement in hockey, she was "surrounded by friends of all races who fought for Malaysia".
Ahmad Fadhli further lamented that the indefinite suspension will affect Hanis Nadiah's future, thus affecting the national squad's chances of winning a medal in the Cambodia Sea Games 2023.
"I urge the Youth and Sports Minister Hannah Yeoh to intervene in this issue by lifting the suspension of Hanis," noted the Perikatan Nasional (PN) Youth chief. "I'm sure the minister will act wisely in dealing with this issue." – Feb 9, 2023