PRO-Pakatan Harapan (PH) news portal Harapan Daily has taken a pot shot at PAS after the public disputed the party's stance when its ally in Perikatan Nasional (PN) Gerakan loudly protested implementation of the" Imam Al-Nawawi's 40 Hadith Appreciation Module" in schools across the country.
Before this, PAS was generally known as having the tendency to "strongly punishing" those who disagree with its quest to uphold Islamic struggle.
"However, when Gerakan protested strongly against the implementation of Imam Nawawi's 40th Hadith Appreciation Module in national religious secondary schools (SMKA) and government-aided religious schools (SABK) throughout the country, PAS was seen as silent," teased the Malay language portal.
In all fairness to PAS, Gerakan which is the smallest of PAS' ally in PN (after Bersatu) has only dared to oppose the Islamic module in the Chinese language media which may be 'outside the radar' of the Islamist party's target Malay Muslim group.
Moreover, this could only be a 'charade' between PAS and Gerakan to enable the latter to portray itself as a defender of non-Muslim rights especially after the Malaysian Consultative Council of Buddhism, Christianity, Hinduism, Sikhism and Taoism (MCCBCHST) expressed worries that the module is reflective of attempts to proselytise non-Muslim children.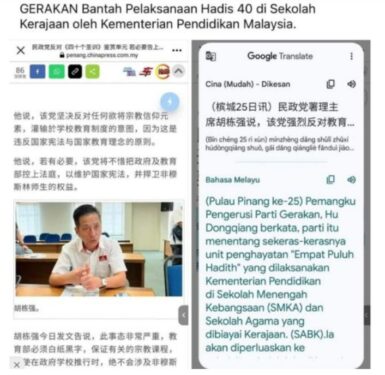 In view of opposition from a wide segment of the non-Muslim community, the Education Ministry has tweaked its plan with Deputy Education minister Lim Hui Ying announcing that the pilot programme of the 40 Imam Nawawi Hadith Appreciation Module will now only involve Muslim teachers and pupils in 61 SMKA and 228 SABK nationwide.
"This initiative is expected to be able to produce a generation of children who are good and intelligent as well as raising the standards of Karamah Insianiah (human dignity) based on three main elements, namely manners, morals and integrity," the DAP MP for Tanjong pointed out in a statement issued on Friday (Aug 25).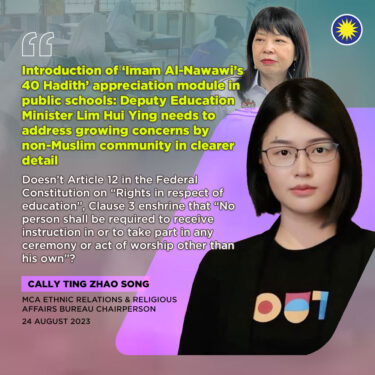 Talking about DAP, it is interesting to note that MCA has hit out of the so-called 'most influential' non-Malay/Muslim component party in the PH-Barisan Nasional (BN) alliance for not been forthcoming with its objection of the education module.
"If the 40 Hadith module had been deliberated and approved during the Cabinet meeting, the non-Muslim community is keen to obtain a more thorough explanation from not only Lim Hui Ling but from the other DAP Cabinet ministers, too," chided MCA Ethnic Relations and Religious Affairs Bureau chairperson Cally Ting Zhao Song.
"To name a few, Anthony Loke, Hannah Yeoh, and Nga Kor Ming," – Aug 27, 2023
Main pic credit: HarakahDaily