PAS Youth has 'retaliated' to the Berjaya Group founder Tan Sri Vincent Tan Chee Yioun and Berjaya Land Bhd having demanded an apology from Kedah caretaker menteri besar Datuk Aeri Muhammad Sanusi Md Nor for his allegedly defamatory remarks on the RM700 mil river-widening project known as the Selangor Maritime Gateway (SMG).
The movement has today lodged a police report at the Gombak District Police headquarters (IPD) against caretaker Selangor menteri besar (MB) Datuk Seri Amirudin Shari "for his lack of integrity which warrants legal action" for engaging a company to undertake the project without going through an open tender process.
"By right, any company that wants to manage the Klang River Mitigation Project under SMG should obtain the appropriate tender but why wasn't this procedure followed by the current Selangor MB?" PAS Gombak information chief Muhamad Suffi Kamari told HarakahDaily after lodging a police report.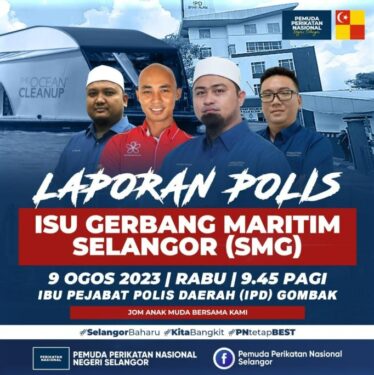 In addition to demanding an apology from Sanusi, Berjaya Land had in its letter of demand sent last Saturday (Aug 5), demanded a compensation of RM200 mil from the Perikatan Nasional election director-cum-PAS warlord.
Muhamad Suffi also questioned the ownership of the Landasan Lumayan Berjaya Sdn Bhd (LLBSB) which is the joint venture (JV) company appointed to handle the project and in which Berjaya Land is a shareholder with a 55% stake.
"This also raised a question since the Selangor state company (Landasan Lumayan Sdn Bhd) doesn't have full control over the ownership of the company," he lamented. "This is compounded by the fact that the Selangor MB himself is a director of the company and is receiving allowances from such project."
Through the project alone, Muhamad Suffi claimed that the debt of the LLBSB to the Selangor state government "was eliminated in exchange for 600 acres of land owned by the state government".
"When we want to give a project to any company, it is mandatory to ensure that it has good financial report. But it is mind boggling that the state government engages a financially troubled LLBSB to undertake such project."
Accordingly, Muhamad Suffi expressed hope that the Royal Malaysian Police (PRDM) would conduct further investigations into this matter.
"I have lodged this police report together with the Selayang PAS Youth leader Kamarul Jamaludin to fortify the report by PN's information committee member, Badrul Hisham Shaharin (a.k.a Che'gu Bard) to the Malaysian Anti-Corruption Commission (MACC) over the weekend (Aug 6)," he noted.
"Every Selangor citizen has the right to know the truth about the matter." – Aug 9, 2023