Editor's note: Yesterday (Oct 29), badminton fans among FocusM viewers were very unforgiving of the way we sang praises of Malaysian wonder women doubles pair Pearly Tan and Thinaah Muralitharan with our analogy that went awry – by likening both young ladies as a formidable "MCA-MIC partnership".
We know that politics and sports (or even business) are very much like oil and water but we got carried away by events pertaining to the upcoming 15th General Election (GE15), which are developing at a feverish pace. This has led us to err by seeing everything under the narrow lenses of politics.
Kindly accept our apology for having misled our good intention with what is perceived as "bad taste of journalism". We have gone overboard by only wanting to showcase to MCA and MIC that if they can be as stellar as Pearly and Thinaah as component parties of Barisan Nasional (BN), then our motherland wouldn't have been in a state of disarray as today.
CALL that "two moments of magic" but hopefully there could be a third this evening (Oct 30) as the Pearly Tan-Thinaah Muralitharan combo is just a step away from being crowned the French Open 2022 women's double champions.
This is provided – of course – that the unseeded Malaysians can demolish yet another "Japanese Great Wall" of twice world champions Mayu Matsumoto and Wakana Nagahara (seeded fourth in the tournament).
Recall that both Pearly and Thinaah – currently ranked 11th in the world – had on Friday (Oct 28) demolished All England champions Nami Matsuyama-Chiharu en route to last night's (Oct 29) semifinal, where they dumped the South Korean pair of Lee So Hee and Baek Ha Na who were runners-up at the Denmark Open last week in straight sets of 21-13 21-17.
Their Japanese world No. 7 opponents tonight of Matsumoto and Nagahara had defeated compatriots Yuki Fukushima and Sayaka Hirota 21-14, 25-23 in the other semi-final.
Well, Thinaah has attributed their semifinal victory to Pearly's "ridiculous fighting spirit"; just a few weeks ago, their presence at the European tournaments seemed doubtful as the latter was recovering from an injury that short-lived their Japan Open campaign in September.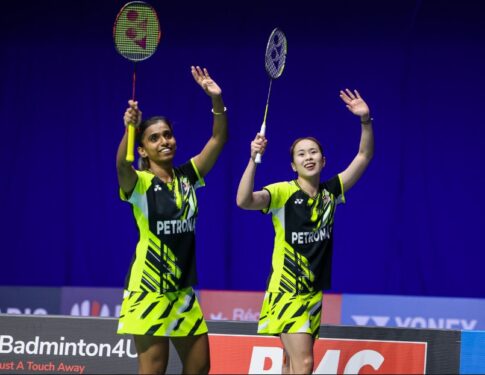 "Our preparations leading up to Denmark and France were dominated by rehab and physio sessions. Initially, we weren't sure we'd make these tournaments," Thinaah told the BWF World Tour portal.
"But Pearly's fighting spirit to get back on court was ridiculous. When I saw that, I had no doubt we'd be back in Europe.
"After what she went through, to come back here a month later and perform this well, (I'm) proud of her", was how the "sisterly" Klang-hail Thinaah, 24, described her Kedah-born 22-year-old partner.
Meanwhile, Pearly said both Thinaah and herself were surprised by their deep run in Paris.
"With the injury, it was so close. Happy with this outcome," she enthused. "We will get a good rest and start planning for the final. The goal is to focus on every point and not waste any chances.
"It's going to be on us to try and not get too excited and carried away, as well as managing our own mindset to ensure we execute the plan well. If we do that, the results will come naturally," added Pearly.
Asked if they can't wait to go out again and finish the job with momentum on their side, Muralitharan concluded her interview with BWF World Tour in jest: "No, we need the rest!"
Pearly-Thinaah is only the second Malaysian women's duo to reach the French Open final since the tournament's inception in 1908. The first was Wong Pei Tty-Chin Eei Hui who finished runners-up at the 2008 edition.
Pearly-Thinaah's last triumph at the World Tour title was the 2021 Swiss Open. – Oct 30, 2022
All photos are credited to the BWF World Tour