FORMER youth and sports minister Datuk Seri Ahmad Faizal Azumu has called the suspension of national hockey player Hanis Nadiah Onn by the Malaysia Hockey Confederation (MHC) and the National Sports Council (NSC) a "timely reminder".
The 26-year-old hockey player was suspended indefinitely for making a racial slur during an AR Rahman concert in Kuala Lumpur recently.
The suspension was announced by the Youth and Sports Ministry yesterday (Feb 9). The ministry also said Hanis will not be in the national team for the Phnom Penh SEA Games in May.
"The suspension serves as a timely reminder that such comments have no place in a multi-racial society like Malaysia," said Faizal, who is known by his nickname Peja.
"Respect for each other is the cornerstone of a society like ours, and as a national hockey player, Hanis needs to be held accountable for her comments."
In pointing out that an athlete's career is often brief, Faizal expressed hopes that Hanis receives the appropriate support from MHC and NSC to ensure that she does not repeat this mistake.
"It is unfortunate that Hanis' comments are not isolated in this context. Divisive content seems to be prevalent on all media platforms, ranging from subtle racist editorials to blatant social media postings and comments abusing race and religion," Faizal noted in a statement.
"Following the recent general elections, inflammatory articles have repeatedly cropped up even in the mainstream Malaysian press, and terms like 'Taliban' and 'religious extremists' have become the norm in describing fellow Malaysians."
He further noted that the foundation of the Malaysian society lies in the respect the people have for each other, notwithstanding political, racial and religious differences.
"Everybody has a role to play in ensuring the respect we have is further nurtured. Let Hanis' experience be a lesson to us all," he remarked.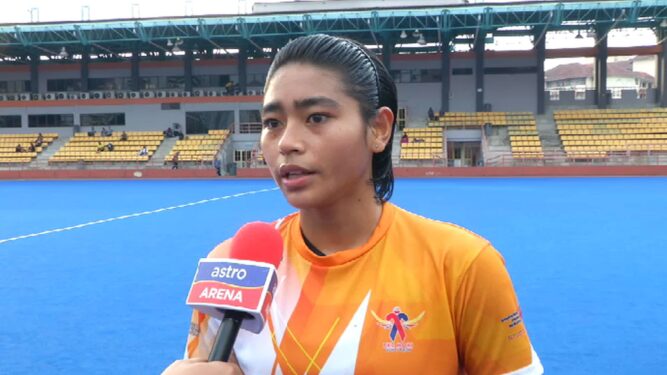 Interestingly, Faizal's opinion is not shared by his fellow Perikatan Nasional (PN) comrade Ahmad Fadhli Shaari, who had condemned the suspension and had urged Youth and Sports Minister Hannah Yeoh to intervene in this issue and retract the suspension.
According to the PAS Youth chief, the move to suspend the national women's hockey player was too harsh considering that Hanis had already made a public apology over the matter and deleted the social media post.
"The investigation committee says Hanis is a down-to-earth person and has shown a high level of discipline during training and tournaments," said Ahmad Fadhli in a statement yesterday.
"Her coach says she has many Indian friends in the hockey fraternity and they all get along well because of her friendly nature. These meant that what was written (on social media by her) was not intended to raise stir racial sentiment or contain racist elements as claimed by certain netizens."
Meanwhile, Hanis said she has accepted the decision to suspend her from representing the national team in the forthcoming SEA Games with an open heart.
Although disappointed, Hanis said she remains committed to chasing the championship for the Negri Sembilan (NSE) team in the 2023 Malaysia Hockey League (MHL) campaign
"As a professional athlete, I will put aside (this problem), and I am committed to my club because the club looks after my well-being. I also respect the club and the MHC," she said after the 2023 Women's MHL Charity Shield match last night.
"If I perform well in the league and the association gives me an opportunity again (representing the country), I will prove that I am still relevant as the national representative," she said after the 2023 Women's MHL Charity Shield match here last night.
Hanis asserted that she is determined not to repeat the mistake, in addition to reminding other athletes to always be careful when making any posts on social media. – Feb 10, 2023
Main pic credit: mStar