PERAK ruler Sultan Nazrin Muizzuddin Shah has consented to menteri besar Datuk Saarani Mohamad's request to dissolve the state assembly, making it the latest Barisan Nasional (BN)-led state to do so following last Monday's (Oct 10) dissolution of Parliament.
The dissolution of the state assembly, which comes into effect today, paves the way for Perak to hold its state polls concurrently with the 15th General Election (GE15), which is due by early December.
Perak is now the third state to dissolve its state assembly after Pahang and Perlis did so on Friday (Oct 14) following their state rulers' respective nods.
Last Wednesday (Oct 12), Saarani was granted an audience with Sultan Nazrin to seek his consent to dissolve the state assembly.
However, as the ruler needed more time to deliberate on the now-caretaker menteri besar's proposal, the assembly was not dissolved then.
Saarani met with the deputy Yang di-Pertuan Agong again on Friday and received the official go-ahead in the form of a watikah (declaration document) yesterday (Oct 16).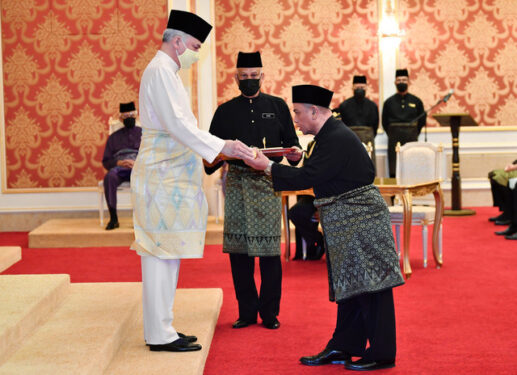 Today's announcement means that only voters in Perlis, Perak and Pahang will be voting for both federal and state lawmakers during GE15, while those in the other states will only vote for a federal lawmaker.
This as Pakatan Harapan has reaffirmed its decision against holding concurrent state polls in the three states it controls, namely; Penang, Selangor and Negeri Sembilan.
Similarly, PAS has said it will not dissolve the state assemblies in Kelantan, Terengganu and Kedah, which the Islamist party currently controls.
Sabah, Sarawak, Melaka and Johor, on the other hand, held their respective state elections recently, while Kuala Lumpur, Labuan and Putrajaya do not have state constituencies.
As per the Federal Constitution, snap federal elections must be held within 60 days of the dissolution of Parliament, meaning GE15 will have to take place by Dec 10, 2022, right smack in the monsoon season and when floods usually take place.
Going by convention, polls could be held in early November; the 13th and 14th General Elections (GE13 and GE14) that were held in 2013 and 2018, respectively, took place one month after Parliament was dissolved.
This will also take into account what Yang di-Pertuan Agong Sultan Abdullah Sultan Ahmad Shah said on Monday about his hope that the Election Commission (EC) will take into account the northeast monsoon season (expected to start in mid-November) when deciding on GE15 dates. – Oct 17, 2022
Main photo credit: Bernama