AS Malaysians are in the dark over the fate of Perikatan Nasional (PN) chairman Tan Sri Muhyiddin Yassin, the rumour mill is rife with speculations of opposition-linked quarters mounting unrest over the potential arrest of the former premier.
Out-on-bail PN-slant political observer Mohamad Shafiq Abdul Halim who recently pleaded not guilty at the Kuala Lumpur Sessions Court on Tuesday (March 7) for obstructing the Malaysian Anti-Corruption Commission's (MACC) investigations, has mooted "mobilisation of a nationwide machinery to protest the arrest of Muhyiddin" who goes by the moniker 'Abah' to his supporters.
Although he has denied a news portal report of his arrest by the anti-graft buster yesterday (March 8), Muhyiddin who is also the Bersatu president nevertheless confirmed on his Facebook post that he has been asked to show up at the MACC's headquarters at 11am today, triggering the likelihood of he being eventually detained for corruption charges.
"All comrades in arms, party warlords and party members as well as PN supporters across the country are requested to come to the MACC Putrajaya Office in large numbers (today at 9am) to protest the arrest of YB Tan Sri Dato Seri Muhyiddin Yassin (Abah Prihatin Negara)," rallied Shafiq on his Facebook post.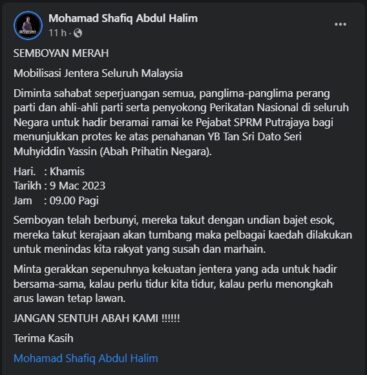 "The siren has sounded, they are afraid of tomorrow's budget vote, they are afraid that the government will fall, so various methods are used to oppress us the poor and low-income wagers."
Added the 32-year-old who used to be a freelance researcher for former Bersatu's information chief Datuk Wan Saiful Wan Jan: "Request to fully mobilise the full strength of the existing machinery to be present together; if we need to sleep, we sleep together, if we need to go against the tide, so would we. DON'T TOUCH OUR 'ABAH'."
Joining the chorus of protests from afar is fugitive blogger Raja Petra Kamaruddin (RPK) who claimed that the MACC's action is targeted at "distracting the rakyat from the issue of preventing the Registrar of Societies (ROS) from rejecting UMNO's no-contest motion for the posts of president and deputy president".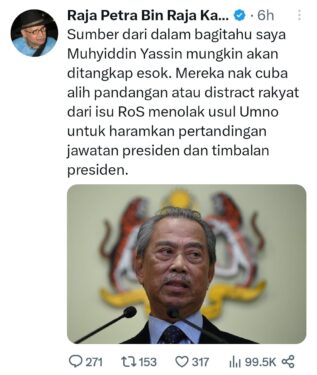 For the record, Shafiq had on March 3 failed to comply with a MACC officer's order by failing to appear at the commission's headquarters in Putrajaya to be investigated over his TikTok video clip which accused the MACC of offering Wan Saiful a bribe of RM10 mil if he were to provide a statement that he took bribes on the orders of Muhyiddin.
The MACC had on Feb 21 rejected allegations in the video as being defamatory even though Shafiq had deleted and claimed that his video clip has been tampered with by Pakatan Harapan's (PH) cybertroopers. – March 9, 2023