BUOYED by "Green Tsunami" phenomenon, Perikatan Nasional (PN) is in a good position to wrest control of Selangor in addition to the almost certain victories in Kelantan, Terengganu, Kedah during the upcoming state elections slated for mid-2023.
To play their cards right, HarakahDaily fathomed that the coalition only needs to capitalise on 33 state seats with majority Malay voters exceeding 60% and six that exceed 50%, while the remaining 17 non-Malay majority seats are probably out of reach as they are DAP's stronghold.
"In Selangor today, the spirit of the 'green wave' that stemmed from the 15th General Election (GE15) is still raging," opined Roslan Shahir Mohd Shahir who is editor of the PAS' mouthpiece.
"This is compounded by the sentiment of strong disappointment and discontentment among Barisan Nasional (BN) members and supporters, in particular UMNO as well as those from Pakatan Harapan (PH)."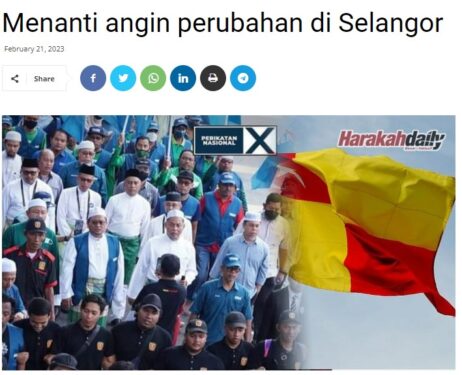 Delving further, HarakahDaily contended that Selangor UMNO members and supporters were disappointed when the party's president Datuk Seri Ahmad Zahid Hamidi and its supreme council decided to help Prime Minister Datuk Seri Anwar Ibrahim form the unity government contrary to the decision of the UMNO general assembly.
"Most of them had expected the UMNO president to agree to help PN which dominates the Malay Muslim votes to form a government but they instead he accepted PH's offer and welcome an opportunity to work with DAP which only sparked a furore within the party," justified the PAS mouthpiece.
"Moreover, UMNO members and supporters were also disappointed when former Selangor UMNO chief Tan Sri Noh Omar who has contributed a lot to the people and the state was dropped from defending his parliamentary seat in Tanjong Karang and later expelled from the party."
As for PH supporters in Selangor, HarakahDaily reckoned that the action of the coalition's leadership in agreeing to work with BN and UMNO whom they previously accused of being "bandits and robbers has actually put them in an uncomfortable position".
"PH campaigned with slogans of anti-corruption and integrity but on the other hand, could easily accept the support of UMNO which they criticised simply because of power. Where has the reformist struggle and spirit gone to?" justified the opposition news portal.
"Even as the Selangor state BN and PH try to hide and hide the sentiment of disappointment and dissatisfaction of their grassroots, the fact remains that it is boiling and bubbling up and waiting to punish them in the forthcoming state polls". – Feb 22, 2023