PKR will kickstart its campaign for the state elections of Selangor, Penang, Negeri Sembilan, Kedah, Kelantan and Terengganu this weekend with the staging of the State Electoral Convention.
The Selangor, Penang and Kedah election convention will take place tomorrow (Jan 14) while that of Negeri Sembilan will be held on Sunday (Jan 15), according to PKR's deputy president Rafizi Ramli.
"The Kelantan and Terengganu election convention will be held on Jan 21. I'm going to launch this election convention of the states," the Pandan MP and Economic Minister penned in his latest Facebook post.
"I have informed the party machinery to continue campaigning on party platforms – notably PKR and Pakatan Harapan (PH) to avoid the use of government machinery and resources in this election."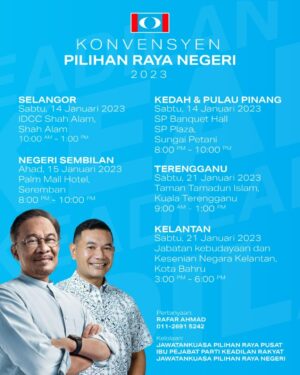 On his part, Rafizi said he will also be campaigning in a series of tours using trucks (prior to him becoming a cabinet Minister) beginning February 2023.
"I invite as many PKR members and volunteers to attend the state election conventions on Jan 14, 15 and 21," he added. – Jan 13, 2023
Main photo credit: The Edge Markets