PLS Plantations Bhd via its 49% associate company PLS LESB Sdn Bhd has inked a memorandum of understanding (MOU) with Guangzhou Jiangnan Agricultural Development Co Ltd (Jiangnan) or collaborative efforts to realise the Malaysian government's food security initiatives.
The strategic partnership covers a wide range of agriculture projects, including durian farming and other cash crops, aquaculture and animal farming as well as downstream projects such as crop harvesting and collection, development of factory and processing facilities, and offtake services.
Covering an area of 400,000 sq meters, the Jiangnan Group which was established in 1994 has transformed itself into the largest fruit and vegetable wholesale market in Southern China as well as becoming the largest fruit and vegetable distribution centre in Southeast Asia.
As of 2022, the Jiangnan Group has achieved a total annual sales transaction volume of up to 50.03 bil yuan (RM32 bil).
Currently, the Jiangnan Group is at the forefront of investing and operating large-scale agriculture trading markets and logistics parks. Its network extends to diverse sectors like agricultural production, distribution of agricultural products, agricultural project development, new retail, property management, big data, e-commerce and commodity trade.
Over the past five years, the Jiangnan Group has revolutionised the vegetable industry by investing in agriculture-related projects like seed breeding centres, demonstration planting bases, agri-product packaging factories, logistics parks and cold storage.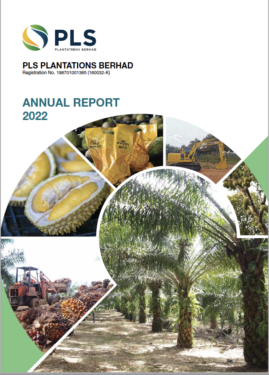 "Our strategic partnership forged with PLS aims to leverage Jiangnan's substantial expertise and proven track record in upstream and downstream operations and factory production," commented the group's founder Ye Canjiang.
"Through Jiangnan Group's extensive network and established distribution channels, PLS can now access new markets, giving their products a broader reach. This reach extends beyond domestic markets by tapping into international platforms and thereby transforming PLS and Jiangnan into a global player in the industry."
Sharing similar perspective, PLS' group CEO Lee Hun Kheng said its partnership with Jiangnan significantly aligns with the local group's ambition of becoming a leading sustainable agrifood company that integrates both upstream and downstream agro-development.
"This alliance will position PLS to optimise their distribution of agri and agro products which is a crucial step towards sustainable operations," Lee pointed out.
"With Jiangnan Group's deep expertise in distribution operations and factory production, we expect to achieve remarkable optimisation in our processes and enhance sustainability – a cornerstone of our business philosophy."
He added: "Moreover, downstream processing offers an additional advantage for it acts as a buffer against price volatility in the agricultural sector, thus providing a safety net for our farmers."
At the close of today's trading, PLS was down 1 sen or 1.05% to 94 sen with 1.47 million shares traded, thus valuing the company at RM413 mil. – July 25, 2023