AGRO-FOOD industry player PLS Plantations Bhd has slipped into the red after incurring a net loss of RM32.68 mil in the group's FY2023 ended June 30, 2023 (FY6/20230) from a net profit position of RM27.31 mil a year ago due to one-off provision expenses and challenges in direct sales to China.
Having recognised these shortcomings, the group is committed to rolling out initiatives that will strengthen its financial position. A significant portion of these provisions was attributed to the downstream segment.
They further highlight that the previous strategy of direct selling to China, primarily through exports, encountered challenges. The COVID-19 pandemic played a pivotal role in slowing down sales, hence making these impairments necessary.
The impairments and write-offs (including impairment of inventories), totalling RM26.7 mil were largely linked to the acquisition of its subsidiary, Dulai Fruit Enterprise Sdn Bhd, and adjustments in trade receivables, inventories and bearer plants.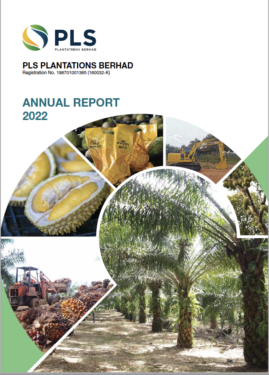 Excluding the aforesaid one-off provisions, PLS Plantations would have reported a net loss of RM9.1 mil in its FY6/2023 mainly due to the lower sales in its oil palm divisions.
"We've recognised that due to the COVID-19 ripple effects, our direct selling strategy to China was not yielding the expected outcomes," commented PLS' group CEO Lee Hun Kheng.
"Hence, PLS has set its sights on refining its approach to the Chinese market. The group is recalibrating to form collaborations with renowned players in China's wholesale and retail sectors instead of the earlier direct selling strategy".
The group is currently engaged in discussions with multiple stakeholders to enhance its access to the Chinese market. The aim of this collaboration is to align interests and foster sustainable growth for PLS, thus allowing the group to maintain its core expertise in planting, sourcing and downstream processing.
Aside from that, PLS has also reported a decline of 35.7% year-on-year (yoy) in revenue to RM118.27 mil in FY6/2023 compared to RM184.05 mil in FY6/2022.
Both the decline in revenue and earnings can be attributed to moderated crude palm oil prices, inflationary pressures on operational costs, and the lingering effects of adverse weather on its durian production.
Furthermore, the challenges in the past year were compounded by an increase in maintenance activities as the labour supply began its recovery, coupled with a slower off take of our downstream durian products by export customers.
At the end of today's market trading, PLS was up 0.5 sen or 0.54% to 92.5 sen with 1.31 million shares traded, thus valuing the company at RM407 mil. – Aug 29, 2023