FORMER education minister Maszlee Malik has been summoned by the police for questioning tomorrow for attending an event to deliver a memorandum to the MACC, which happened on Monday.
In a tweet, Maszlee said that he will be heading over to the Putrajaya police headquarters at 10am to record his statement.
"In regards to my presence during the event organised by PKR Youth, I was called by the police for questioning tomorrow at the Putrajaya police headquarters, at 10am," he said.
Sensing the irony of the situation, the Simpang Renggam MP ended his tweet with a cheeky question: "Have Azam and his brother been called for questioning yet?"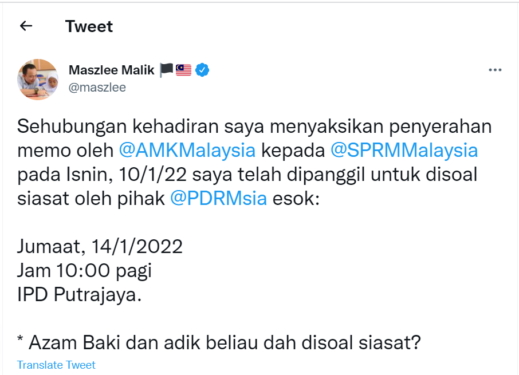 MACC chief commissioner Tan Sri Azam Baki had been accused of allowing his younger brother to purchase shares back in 2015 and 2016, which was in breach of Section 25 of the Securities Industry (Central Depositories) Act 1991 (SICDA).
Following the pressure against him, PKR upped the ante by staging a peaceful protest on Jan 11, urging Azam to resign.
The group then followed up by moving in a convoy of 50 vehicles from Dataran Putrajaya to the MACC headquarters.
Free Malaysia Today (FMT) reported that apart from Maszlee, PKR youth chief Akmal Nasir, Batu MP P Prabakaran, youth vice-chief S Thiban and its secretary, Syukri Razab, had also been summoned by the police for questioning. – Jan 13, 2022.