KEDAH Menteri Besar Datuk Seri Muhammad Sanusi Md Nor has recently invited Home Minister Senator Datuk Seri Saifuddin Nasution Ismail to contest in his state in the upcoming state poll.
I expect that Saifuddin who is comfortable being a senator and minister under the unity government not to heed the call at this point in time.
If we examine Saifuddin's political career, we will notice that he had never contested in the same constituency twice nor was able to defend any seat that he has previously won in two consecutive elections.
In the 1999 general election, he contested the Padang Serai parliamentary seat in Kedah under PKR but lost. A year later, he won the Lunas state assembly seat in Kedah during the 2000 by-election.
However, he failed in his bid for Parliament in the 2004 election, losing to Lim Bee Kau from Barisan Nasional (BN) for the Padang Serai seat. In the same year, the Lunas state assembly was won by Ganesan Subramanian, a MIC candidate from the BN coalition.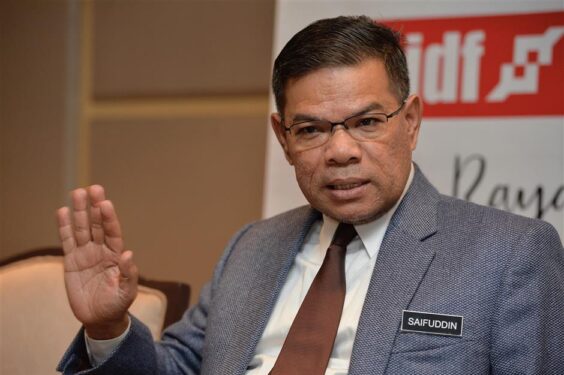 In the 2008 general election, Saifuddin contested and won the Machang parliamentary seat in Kelantan.
For the 2013 election, he returned to Kedah to compete in the Kulim-Bandar Baharu seat but was defeated by Datuk Abd. Aziz Sheikh Fadzir.
Somehow in the 2018 election, Saifuddin made a comeback to win both the Kulim-Bandar Baharu parliamentary seat and the Pantai Jerejak state assembly seat in Penang but failed to retain his parliamentary seat in the recent 15th General Election (GE15).
This shows that Saifuddin has a very inconsistent political career and what he is betting on is loyalty to his employer Datuk Seri Anwar Ibrahim as opposed to his ability to serve as a representative of the people.
Even if given a safe seat, the probability of his failure is very high although he is a well-known politician at the Federal government level.
I believe he understands the matter and will definitely not risk his major position at the federal level just to compete in the upcoming Kedah state election.
Despite being an ace team player (ayam tambatan) for the 10th Prime Minister (PM) in the Cabinet of the unity government, I believe Pakatan Harapan (PH) will not nominate him as a candidate in any state poll based on his rather poor track record.
Sanusi's invitation to Saifuddin will only pass quietly because Saifuddin is not a fighter who is willing to defend his party's ideology and fully serve the people.
Ironically, in the lawsuit filed by PKR against me, Saifuddin has stated that I only won on the party's ticket and not because of my personality.
While with PKR. I have won GE12 (2008), GE13 (2013) and GE14 (2018) in the same parliamentary constituency (Ampang) – thrice in a row to be precise – but Saifuddin has never won in the same place twice in a row.
Hence, this goes to prove that Saifuddin not only failed to provide service in the area he won and even PKR's own "strength" failed to help him defend the seat he won.
In my opinion, Saifuddin is just a "staff" who obeys every wish of his employer regardless of whether the actions of his employer are good or bad for the people and the country. – June 29, 2023
Datuk Zuraida Kamaruddin is the deputy president of Muafakat Nasional.
The views expressed are solely of the author and do not necessarily reflect those of Focus Malaysia.