Editor's note: That rumours abound about his health and well-being have prompted us to publish a Facebook post by the PETRA Group chairman and chief executive Datuk Vinod Shekar about 'life turbulence' that nobody wants to be associated with.
Very little is known about how the philanthropist and owner/founder of news portal, The Vibes, is keeping himself positive despite his so-called "chronic heart condition" while being surrounded by his dearest wife Datin Dr Winy Sekhar. We allow him to express himself – uncensored.
AFTER my routine heart check-up in Apollo Hospital in Chennai about three weeks ago, I got on a flight back to Kuala Lumpur with Winy.
About 40 minutes into the flight over the Indian Ocean, I had a very bad cardiac event. It forced the flight to turn around and fly back to Chennai where an ambulance rushed me to the hospital.
I don't remember much of what happened but what I do know is that my amazing wife, Winy, saved my life three times. Twice on the plane and once in the ambulance as I faded. As both my blood pressure and pulse faded, she brought me back, and similarly again in the ambulance, with a little help of an injection of adrenaline.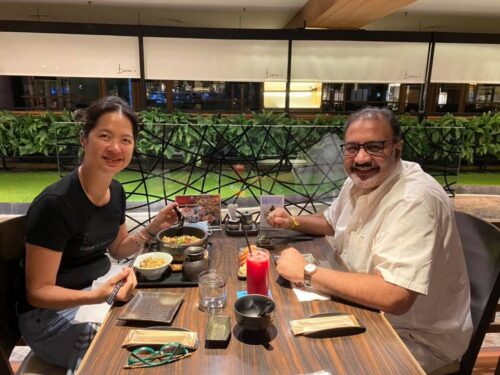 It's as close to the edge as I've ever come to. I've been in hospital for three weeks now. Our beautiful daughter Petra flew straight back to Chennai and stayed in the hospital room for 10 straight days until the doctors told her I was stable. My baby Tara was on a flight back to Edinburgh when this all happened.
During the day, they'd find moments to get me out of bed, unhook me and let me sit on the sofa for a bit – giving me some sort of normality between the multiple, sometimes painful invasive procedures I had to go through.
When I could, we'd play cards, when I couldn't they'd just talk to me to keep my spirits up. I guess the whole environment combined with the drugs and heart chemicals brings you down. I wasn't allowed to use my phone initially – no stress allowed – so I'd sit there playing brick breaker on my iPhone with no reception. But hey, I got up to 4,500 points!!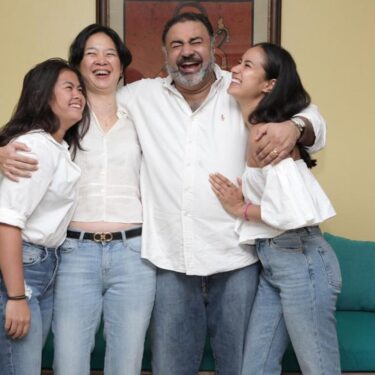 Reality sinks in
So what's my condition? So many are asking. Well I've never really hidden it but here it is. I have chronic heart failure with an ejection fraction at just over 20%, coronary heart disease (with seven stents), ischemic heart disease, ventricular tachycardia (so I have a machine that zaps me implanted in my chest called an IACD – Ironman like – but without the lights and fun stuff) and a bunch of milder issues thrown into the mix.
I am a heart transplant candidate and we have been in the last three years trying to delay it as much as possible. Over the next few months, we will know if we can delay it further. Apparently, the stress of the last six months may have tipped my heart over without me realising it.
Well I guess being constantly attacked for the side I was on and the gruelling election period took its toll. But the result was worth it all.
I know I'm lucky and blessed. I have doctors who are so committed to my health, a family that literally keeps my heart and soul going, and a few good friends who have stood by me through thick and thin.
And I'm still alive. The joke before the election was that certain politicians that didn't like my political stance and side I took, would say "the fxxxxr is meant to be dying … problem is he just won't die!!"
So here I am. Still standing (sitting sometimes) with no intention of leaving anytime soon. There will be no silently into the night for me. Kicking and screaming is the only way I'll go. I love life too much.
Hope for his motherland
I love everyone around me too much. And I'd like to see my Malaysia rise again and shine like a beacon for the world. I think I've earned at least that much. And I like all human beings having made mistakes which I must make up for, and I have to be around to do that.
Being incommunicado for this long has taken its toll on everyone close to me. I want to apologise to my family, my friends, my colleagues for the stress of me suddenly going missing in action has been on everyone.
I'm so sorry. But now I know I need to ensure delegation and authority is transferred and shared. A group cannot be about one person. And now I must start that phase of sharing the burden and accepting the support and advice of my colleagues who have always offered it.
I am recovering well and will be home very soon. I want to thank all of you for the love, prayers and messages sent to me and Winy. We are so grateful.
I'm looking forward to seeing you all when I get home. Thank you for all the love. You have no idea how much it meant and means to us. – Feb 9, 2023
All photos credited to Datuk Vinod Shekar's Facebook