IT is uncustomary for Penang as a so-called developed state filled with numerous industries or even as an export-import gateway to record a more dismal economic statistic compared to Kelantan.
But humiliating or otherwise, the 'veranda of Mecca' (Serambi Mekkah) has again toppled the Pearl of the Orient in terms of surplus income as per revealed by the Auditor-General's Report 2021 Series 2.
This, according to Darulnaim Research Centre analyst Nazman Che Iberahim goes to show that "Penang's economy under the DAP has nothing to shout about" even as its gross domestic product (GDP) tops the nation's list compared to ninth-ranked Kelantan which is often mocked as an under-developed state.
"Appropriately, this is what needs to be debated if we really want to see transparency and performance as well as projection for future planning and development for a state in particular and the country in general (instead of insisting for the debate of the AG Report which has never been a norm in the Dewan Rakyat)," observed Nazman in an opinion piece that appears in today's HarakahDaily.
As per revealed by Darulnaim Research Centre, the AG Report 2021 reported Kelantan's income at RM773.48 mil which is RM81.24 mil higher than Penang's RM692.24 mil.
Kelantan spent RM725.87 mil, thus giving it a surplus (+RM47.61 mil) for the sixth year in a row compared to Penang's spending of RM836.48 mil, hence recorded a deficit (-RM144.24 mil) for several years in a row.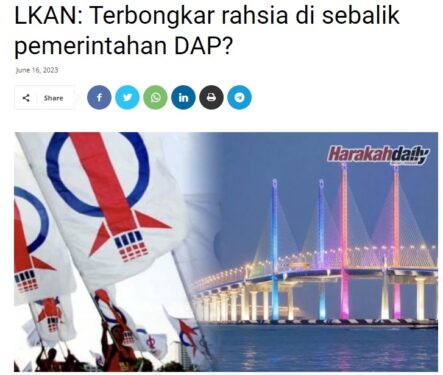 "Interestingly, behind the statement that Kelantan is better, suspicions have been raised by certain quarters if there is deception in Penang's financial statement, ie suspected smart accounting. Could it be that part of the state's revenue or profit has been included or channelled through certain companies or sub-contractors who have derived lucrative projects?" asked the research centre.
"(Otherwise), it doesn't make valid sense for Penang as a developed state filled with various industries and even serving as an export-import gateway to record a lower economic performance than Kelantan."
The Darulnaim Research Centre further took a swipe at Penang by citing the state's nemesis – Kedah Menteri Besar of Datuk Seri Muhammad Sanusi Md Nor – who claimed that the progress of Penang happened mostly under Gerakan's 39-year rule: 21 years during the reign of Tun Dr Lim Chong Eu and 18 years under Tan Sri Dr Koh Tsu Koon
Sanusi had also revealed a scheme which he described as a "grand designed" to create "The Greater Penang" which gave Penang a lot of advantages compared to other northern states.
In the words of the Kedah PAS deputy commissioner, this is to ensure that all development prospects and future plans and policies will pass through Penang to make the state a centre of growth while ensuring a spill-over effect to the entire northern region.
"Therefore, the fact is that Penang's economic growth is currently contributed by other northern states because everything has to go through its airport and port," argued Nazman of the Darulnaim Research Centre.
"This shows that the DAP government in Penang does not have any glorious achievements but merely riding and tapping the outcome of fruitful results from other parties which in a way reflects the treacherous side of the UMNO-BN (Barisan Nasional) government.
"That is very true as other Malay states such as Perlis, Kedah, Perak and Terengganu as well as the northern part of Perak seem to be neglected or left without proper advanced development planning." – June 16, 2023