THAT the Penang state assembly has received a motion without notice from Air Putih state assemblyman Lim Guan Eng to censure Kedah Menteri Besar Datuk Seri Muhammad Sanusi Md Nor over his remarks that Penang was not a "sovereign" state could have stemmed from DAP's very own fear of the Green Wave phenomenon.
Taking a jibe at the Bagan MP and former Penang chief minister, pro-PAS think tank Darulnaim Research Centre said the sentiment is seemingly so intense that DAP which controls Penang is "seen as rallying 1.8 million Penangites to war".
"In early January, Pakatan Harapan (PH) has come to realisation that they cannot ignore the Green Wave that was triggered by Perikatan Nasional (PN). Even Penang DAP Deputy Chairman Prof P. Ramasamy said the Green Wave should not be considered a normal phenomenon," researcher Nazman Che Iberahim told HarakahDaily.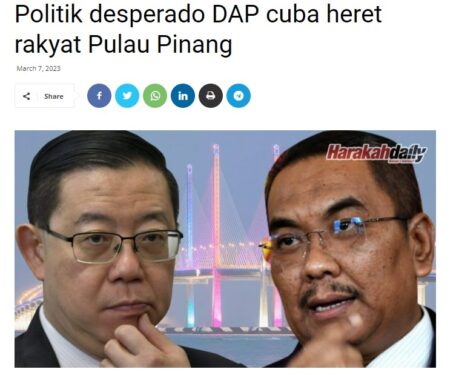 "The support garnered by PN, according to him (Ramasamy), may make it difficult for PH to maintain power in the next five years."
He added: "From Ramasamy's perspective, the question is how PH is able to remain in power without the support of the Malays. Moreover, how is PH able to strategise the necessary steps to win the next GE16 in five years' time."
This eventually culminated in Guan Eng's attack last week which dragged to today's state assembly session in relation to the issue of "state sovereignty" and the "retaliation of Kedah Menteri Besar" which actually centred on DAP's fear that it would lose power in Penang, according to Nazman.
"Have you run out of ways to convince voters to keep DAP in Penang? Are you so afraid of the Green Wave till you need to drag '1.8 million Penangites ' into the desperation of DAP's politics?" wondered the researcher.
"The fact is DAP's tactic of fuelling such a warfare is the same strategy that the US and Israel applied to manipulate sentiments of their citizens." – March 7, 2023
Main pic credit: Sarawakvoice.com