THE Madani Cabinet and its Home Minister Datuk Seri Saifuddin Nasution Ismail should be commended for making the right decision not to allow airline companies to appoint a third party to handle the deportation of travellers served with the Immigration Department's "Not to Land" (NTL) notice at the Kuala Lumpur International Airport (KLIA).
A FocusM reader made an interesting observation that the independent company Mono Circle Sdn Bhd was allowed to roam freely into the restricted zone while a minister who went in to help a tourist from China was said to have "barged" into the turfs.
In a way, Saifuddin's firm decision shows that the Madani government will have no nonsense when dealing with matters that can jeopardise the image of the country.
The country needs such a minister to help solve its numerous woes where anything is possible in what has become the joke on everyone's lips for many years now – "Malaysia, the Bolehland".
In most countries, private companies would never be allowed to operate on behalf of the airlines as this is clearly against the International Civil Aviation rules.
As pointed out by Saifuddin even our Immigration Act stated that airlines should be directly responsible for the deportation of the NTL travellers.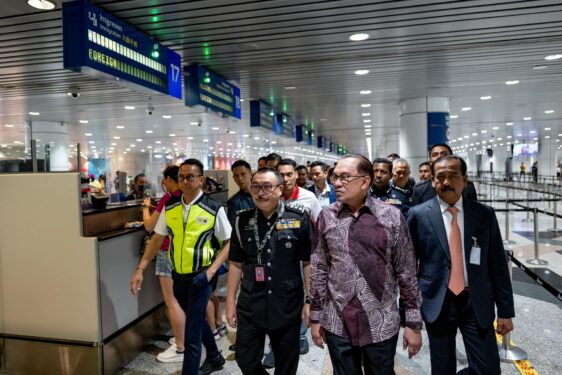 In fact, the Malaysia Anti-Corruption Commission (MACC) would do well if it gets to the bottom of this so-called arrangement. If the MACC lacks the manpower, perhaps a non-governmental organisation (NGO), a lawmaker or the Parliamentary Select Committee could take this up by digging further to know what transpired.
A few questions have to be asked:
Who are the directors of the said company appointed to handle the NTL travellers? When was the company set up? What is the paid-up capital of this company? How much is the company paid? How profitable was the business?
Who approved the appointment of the company in February 2015? Was it done on a tender basis?
Was a minister ever consulted especially since this was against the Immigration Act? If not, why was approval not sought since it is against the Immigration Act? Since the appointment of the company concerned is illegal, should the company and its directors and employees not be investigated now and charged for trespassing?
Why were its staff allowed into the restricted zone when the same people at the Immigration checkpoint made a brouhaha over the entry of a full-fledged cabinet minister?
It has since become very clear now why a particular tourist from China was complaining that he and another tourist from Hong Kong had not been given food for a number of hours despite paying RM250 for the food.
Until such time when the authorities can get to the bottom of things, it is hard to accuse anyone or company of being a 'runner' in what is potentially a scandal involving the authorities at the KLIA. – July 14, 2023.
Pics credit: Datuk Seri Anwar Ibrahim's Facebook