HAVING been actively investing in technological advancement and innovation, Main Market-listed apparel maker Prolexus Bhd has forged a research & development (R&D) partnership with certification, inspection and testing services body SIRIM Bhd to further drive competitive edge.
Yesterday (Sept 12), both parties inked a memorandum of understanding (MOU) to explore potential economic value to be generated from waste materials of textile production lines, application of alternative energy (ie hybrid solar photovoltaic and battery storage systems) and other potential R&D projects.
"SIRIM has an impeccable reputation as an organisation for research, technology and innovation. We believe this collaboration will help to accelerate our in-house research on technology advancement in our manufacturing process," commented its executive director Datuk Au Yee Boon.
"This collaboration is an extension of our group's initiatives. For example, we have invested in a wide range of advanced types of machinery that could enhance Prolexus' production capacity with modern sew-free techniques, bonding and lamination construction to cater to increasing customer demand."
According to Au, Prolexus has its own information technology specialist (ITS)-certified laboratory that is available at all times for its in-house lab testing.
The company which has been in apparel manufacturing with over 40 years of leadership in the industry, is an authorised apparel manufacturer for international sportswear and fashion brands such as Nike, Converse, Under Armour, Disney and GAP.
The collaboration with SIRIM will focus on three pillars: risk management, environmental, social and governance (ESG), and the group's research & development (R&D) initiatives. This is aligned with Prolexus' mission to inspire and deliver its best innovation, speed and quality to create values for its partners.
Above all else, Prolexus' strategic alliance with SIRIM will also explore the possibilities of developing a joint proposal for any potential grant, devise joint promotional cooperation between both parties for marketing and advertising purposes, and explore government incentives to localise the manufacturing and supply of textiles and apparel.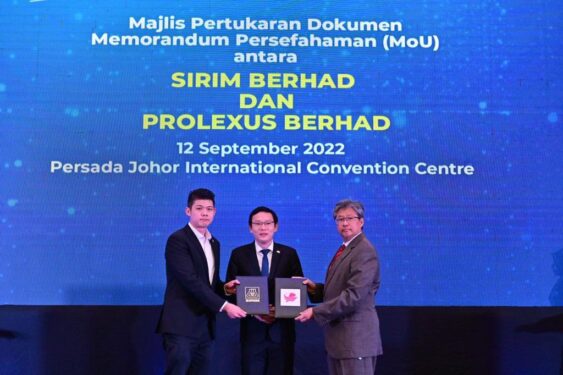 "The cooperation pursuant to this MOU shall be managed by a steering committee consisting of at least four representatives from Prolexus and SIRIM each and chaired by one of the representatives from SIRIM," explained Au.
"The steering committee will help to facilitate all formalities in connection with the preparation, negotiation and implementation of activities within the framework of this MOU."
He added: "We are confident that this will benefit and strengthen our research and technology development. Moreover, on a longer-term basis, we believe the collaboration will accelerate our growth strategy, especially in smart manufacturing, green energy and many more areas."
At 11.20am, Prolexus was up 0.5 sen or 1.2% to 42 sen with 45,500 shares traded, thus valuing the company at RM116 mil. – Sept 13, 2022