PARTI Sosialis Malaysia (PSM) has sought clarification from Dewan Rakyat speaker Tan Sri Johari Abdul if he or any Parliament staff has instructed the police to restrict the democratic rights of Malaysians from gathering in the Parliament or on Parliament grounds.
In a letter addressed to Johari, PSM's deputy president S. Arutchelvan further inquired if the speaker of the august house has jurisdiction outside the Parliament grounds such as in the vicinity of the National Monument or Padang Merbok to receive a memorandum.
"It is a norm in any democratic system that the people have the right to submit memorandums, petitions or hold peaceful assemblies in Parliament grounds, since Parliament is the symbol of the country's democracy," Arutchelvan pointed out in a letter dated today (Sept 13) to Johari.
"However, we observe lately that the PDRM (Royal Malaysia Police) has restricted the people from going to the Parliament grounds to hand over their memorandum or to assemble (there)."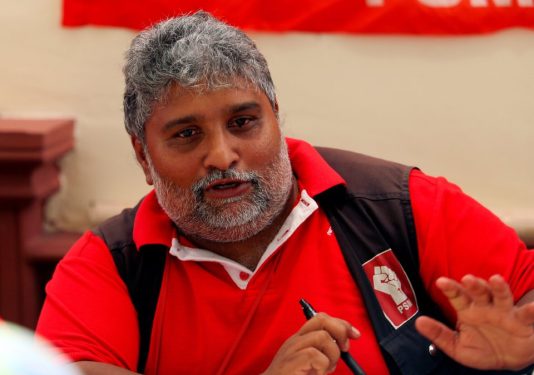 On this note, the PSM leader brought to Johari's attention that the Parliament grounds are not a prohibited area listed in the First Schedule of the Peaceful Assembly Act 2012.
"The PDRM has given the reason that they acted based on instruction from the Parliament that people are not allowed to submit memorandums in the vicinity of the Parliament grounds," asserted Arutchelvan.
According to him, a group of farmers from Perak had come to the area Parliament to submit a memorandum yesterday (Sept 12) but those who parked their cars at the National Monument vicinity were blocked by the police from walking to the Parliament due to the police having received an order from the Parliament not to let the group pass through.
"We refuse to submit a memorandum in the National Monument area because the National Monument is not the Parliament," insisted Arutchelvan.
"Right now, a statement issued by the Dang Wangi District Police Chief ACP Noor Dellhan Yahaya is saying that the police wants to investigate under Section 186 of the Penal Code the allegation that the person being investigated obstructs civil servants from carrying out their duties."
He added: "We truly hope for a clarification from the Dewan Rakyat Speaker while really hoping that the instructions given to PDRM are not contradictory to Article 10 of the Federal Constitution of Malaysia." – Sept 13, 2023