PARTI Sosialis Malaysia (PSM) has urged the authorities to form a high level independent task force to investigate the bomb found in social activist-cum-lawyer Siti Kasim's car.
The confirmation by police that it is indeed a bomb is alarming and is shocking, according to the party's deputy chairman S. Arutchelvan.
"Though we don't want to speculate at this point of time but past incidents which happened on the enforced disappearance of (activists) Pastor Raymond Koh and Amri Che Mat as well as the classified information not being revealed gives the impression that there is an organised crime taking place which has not been resolved," opined Arutchelvan in a WhtsApp statement last night (July 21).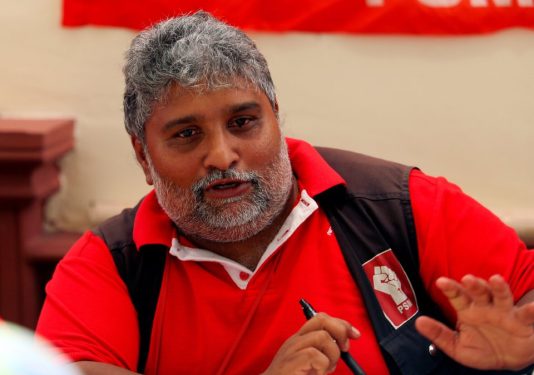 Added Arutchelvan who will be contesting the Kajang seat in Selangor during the Aug 12 state poll: "PSM is in solidarity with Siti Kasim and stand by her. The police need to definitely give her protection and ensure her safety is not compromised."
For context, Brickfields OCPD Asst Comm Amihizam Abdul Shukor has described the two bottles filled with wires that were discovered behind the rear tyre of Siti Kasim's car as possibly improvised explosive devices (IED).
According to a shocked Siti Kasim, the object was found attached to the undercarriage of her vehicle when she sent it for servicing at a workshop in Bangsar, Kuala Lumpur yesterday (July 21).
"I sent my car for service as I need to drive to Kelantan for a court case this weekend. I was having lunch when the workshop called me to ask me about a suspicious-looking device," she explained over a series oflive sessions over the Facebook.
Siti Kasim added she did not know when the device could have been fitted on her vehicle as it was parked in her condominium all the while.
Meanwhile, veteran lawmaker and retired DAP's supremo Tan Sri Lim Kit Siang called on Malaysians to denounce the bomb threat attempt on Siti Kasim's life in the strongest possible terms as such act should have no place in the public life of any Malaysian.
"Malaysians can have political or other differences but such differences must be resolved in the context of the nation-building principles of a plural Malaysia," Kit Siang who holds the record as the country's longest serving Opposition leader (29 years on three separate occasions) pointed out in a statement.
"There is no place in Malaysia for the resolution of differences by other than peaceful means at all times; the rule of law and peaceful means to resolve differences must always prevail." – July 22, 2023