A FIRE which broke out yesterday (Sept 29) at Pulau Ketam off Port Klang in Selangor has brought to the attention of people in the corridors of power the plight of the islanders.
As most of the houses here are built of wood on stilts, it is imaginable that the moment a fire breaks out, the fire can easily spread even though the village is surrounded by plenty of sea water.
In the Friday incident, the fire gutted three houses at Bagan Teo Chew in Pulau Ketam before it was completely extinguished at 3.41pm. It was learnt that a 49-year-old woman died in the reported fire with the cause of the fire currently under investigation.
According to the Fire and Rescue Services deputy director-general Datuk Nor Hisham Mohammad, a stress call was received at 12:45pm yesterday following which 24 firefighters from three fire stations – namely Port Klang, Andalas and Kota Raja – were rushed to the village on speed boats to provide the support to the island's auxiliary firefighters unit (Pasukan Bomba Sukarelawan).
"Our auxiliary firefighters at Pulau Ketam are our frontliners to get to the scene first whenever there is a fire," he told FocusM late last night.
A video clip received showed a few men attempting to douse the fire using sea water and a diesel-operated water pump. It is the sacrificial and united efforts that they put in that make this team of volunteer firefighting squad exemplary of how much can be achieved when people are united.
The team also won the praises from Nor Hisham who said that he truly respects the way Pulau Ketam volunteers and their community support each other. "The Pulau Ketam community is one of the best examples of PBS we have in Malaysia," he applauded.
Basic facilities
Nor Hisham said that the fire services department will further assist by providing more training and perhaps better facilities where necessary, to equip the auxiliary firefighters to better control the spread of fire in case it happens again.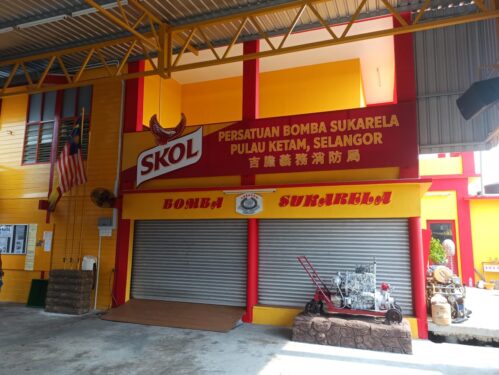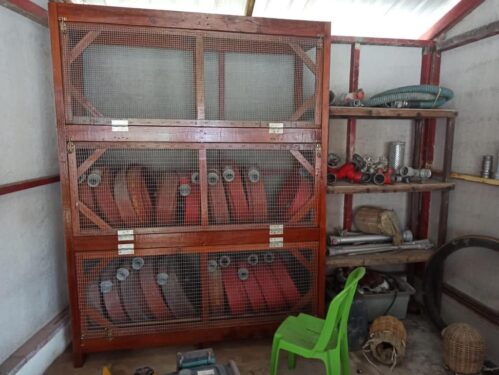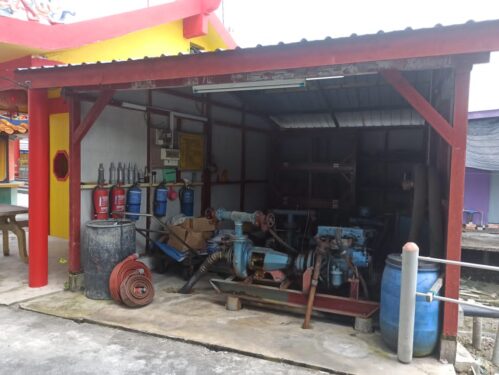 It is also learnt that that the fishing village is equipped with a central pump which is of a reasonably good size for their hydrant system.
For the uninitiated, Pulau Ketam is a well-known fishing village in Selangor which is often visited by local tourists who want to enjoy the fresh seafood and experience what it is like living in a fishing community.
The village has a small makeshift fire and rescue services unit run by volunteers which shows that the community does come together when it comes to protecting their own properties and lives against a fire outbreak.
This is what was witnessed by a group of local tourists from Shah Alam during their one-day excursion to Pulau Ketam on Thursday (Sept 28). They decided to find out more of the history of the firefighting unit and to take a look at the facilities available.
Preferring to remain anonymous, one of them informed FocusM that it is "unusual" for tourists to visit a fire station.
"Little did we expect a fire to break out yesterday (Sept 29) itself," he shared. "It was a good learning experience for us, especially since the fire broke out the very next day shows how important it is to come together as a community when dealing with fire." – Sept 30, 2023