IT IS obvious that 50% of voters are made up of staunch supporters who have already set their minds on parties of their choice with no lecture or argument whatsoever will deter them from voting for that particular party – even if the fielded candidate has been found guilty of any wrongdoing.
Nevertheless, their votes alone are not enough to ensure a victory for their party. There is a need to be wary of the other 50% of voters who comprised fence-sitters who have mixed sentiments, so warned PKR deputy president Rafizi Ramli.
Elaborating further, Ramli who will return to contest for the Pandan parliamentary seat in the 15th General Election (GE15) which he last won in 2013, stressed that the party that succeeds in luring fence-sitters to vote in their favour will ultimately win the forthcoming national poll.
For the record, Rafizi could not defend his Pandan seat in the 14th General Election (GE14) as he was disqualified as a MP after the Shah Alam Sessions Court found him guilty and sentenced him to 30-month jail for disclosing the details of four bank accounts relating to the National Feedlot Centre (NFC) scandal.
He further laid bare the characteristics of three groups of fence-sitters:
Group 1: Voters who care about the quality of their everyday life. They evaluate the performance of the administration and economic management because they put everyday economic issues – the price of goods, wages and children's education – as the main yardstick.
They are not too consumed by the racial or religious sentiments that are often raised. This group usually votes for PKR and parties in the Pakatan Harapan (PH) coalition.
Group 2: Voters who put the issue of race and religion above other considerations. Although they know that parties such as UMNO, PAS and Bersatu have a record of corruption and poor management, they are more willing to have corrupt or lazy ministers so long as these ministers are Malays and Muslims. This group usually votes for UMNO or PAS.
Group 3: Voters who are disappointed with everything. They are aware of the effects of corruption and embezzlement. They also know that many ministers from UMNO, PAS and BERSATU do not know how to govern.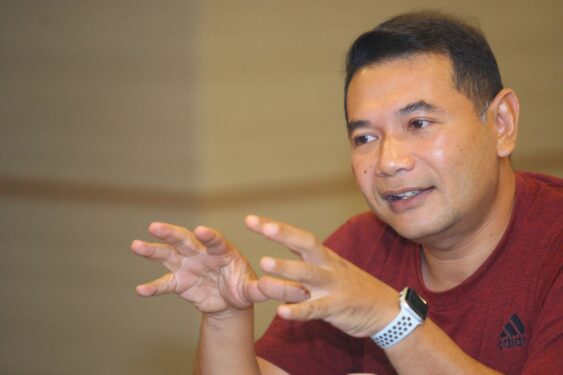 But they were also disappointed with PH's dismal performance during the 22 months because it was felt that voices that seemed to sound extreme were not handled well. This group will eventually determine the winner of this election.
"So which group are you in? I have only one message: racial and religious sentiments, no matter how strongly they are played, they do not solve your everyday problems," cautioned Rafizi in a recent Facebook post.
"The issue of low wages, rising prices of goods, high prices of homes, personal debt and others can only be resolved as a result of proper policy and detailed planning of a government that is wise, honest and efficient in managing the country," he added. – Nov 1, 2022
Main photo credit: Harakah Daily