Letter to editor
FORMER Penang deputy chief minister Prof Ramasamy Palanisamy's departure from the DAP did not surprise many. But I am deeply saddened over DAP's treatment towards the man who had sacrificed more than 20 years of his life to public service.
Party secretary-general Anthony Loke Siew Fook did not even have the courtesy to personally convey the decision that Ramasamy has been dropped as a candidate for the Perai seat in tomorrow's election (Aug 12). This is despite Ramasamy having been Loke's teacher in the past.
As a Penangite, I have been following Ramasamy's political career for some time now and I admire his tenacity and profound insights into issues that concern the public.
As many of us know, Ramasamy was an accomplished academician before diving into the murky world of politics. But he still retained his touch as an incisive thinker throughout his political career.
Ramasamy is a prolific writer and has quite a following among the non-Bumiputera, especially the Indians. He's also one who would call a spade a spade. But his frankness often touches on raw nerves, hence making leaders – including those from within Pakatan Harapan (PH) and DAP – are often uncomfortable with his views.
One example was his controversial view that the public service was being dominated by only one race. He had also been a fierce critic of racially-biased views from former twice premier Tun Dr Mahathir Mohamad.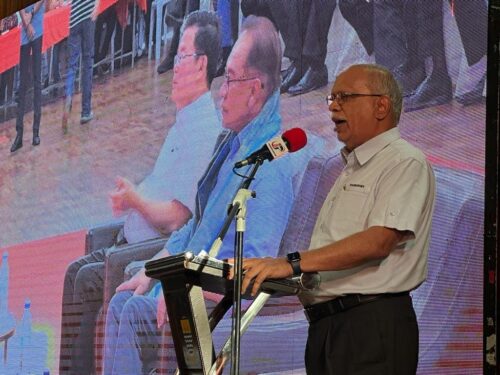 MCA 2.0
But it would seem that with the Chinese-dominated DAP being in power at the Federal level now, it preferred to gloss over some of the touchy subjects to preserve the so-called "unity" within the unity government. Doesn't this show that the DAP is only becoming another MIC or MCA?
Anyway, it's an open secret that a "cartel" in the DAP – led by someone Ramasamy described as an "emperor" – had wanted to oust him and his supporters. This is because Ramasamy refused to "play ball" and is not aligned to the "emperor".
So much for DAP being an open, democratic party that allows dissent.
Ramasamy's departure is also a reminder of the party's Chinese-centricity. The only non-Chinese who could survive long in the party are those who are pliant and do not rock the boat.
Outspoken non-Chinese leaders like Ramasany, the late DAP vice-chairman Tunku Abdul Aziz Tunku Ibrahim and Datuk Zaid Ibrahim are not tolerated in the party which is being run like a mob family.
Let's be frank: Ramasamy's departure is a huge loss to the DAP and PH. He has also contributed immensely when he was heading the Penang Hindu Endowment Board. Penang Indian voters are grateful to the board for its contributions such as allocations for Hindu temples.
Penang voters, especially from the Indian community, will remember Ramasamy fondly although he's not standing on Saturday. In fact, they may just vote against PH just to spite the DAP government for showing its true colours by mistreating Ramasamy. – Aug 11, 2023
Michael Chelliah
Butterworth, Penang
The views expressed are solely of the author and do not necessarily reflect those of Focus Malaysia.