PAKATAN Harapan (PH) left Putrajaya in 2020 with an unfinished task. Now that it has the opportunity to form the government of the day, Prime Minister Datuk Seri Anwar Ibrahim (PMX) has been pushing for reforms.
Reforms have to be done in stages. But time is not in his hands as the opponents are desperate to overthrow the unity government because they know that under PMX, they cannot continue with their corrupt practices.
Anyone who has watched Zunar's biopic movie of Anwar: The Untold Story (now showing on Netflix) will understand that having suffered under a corrupt regime in the past, Anwar has a big task ahead as the country's 10th PM.
If the unity government fails to clean up the country and put in place a system of governance that will bring Malaysia to the next level, Malaysia may be on the path towards bankruptcy.
Having accumulated a debt of RM1.5 tril before the unity government took over, there is nothing much to shout about the successes of previous Perikatan Nasional (PN)-led government.
Moreover, PN leaders along with former twice premier Tun Dr Mahathir Mohamad are doing nothing to help the country except continuing to harp on race and religious sentiments in their vote fishing expedition.
His priorities to fix problems
Anwar who also doubles up as the Finance Minister is known from those early years as one who was able to get down to the grassroots. This is the reason why when he was arrested, the Reformasi movement went on for years.
This is why immediately after taking over Putrajaya, Anwar's first priority was to assist the B40 and dismantle the monopoly held by only the elites. Yet his critics continue to hurl all sorts of allegations that Anwar only took care of the B40 and that Anwar did not have any solid economic plans.
Anyone understanding how the country is run will realise that we are still midway through the 12th Malaysia Plan (12MP).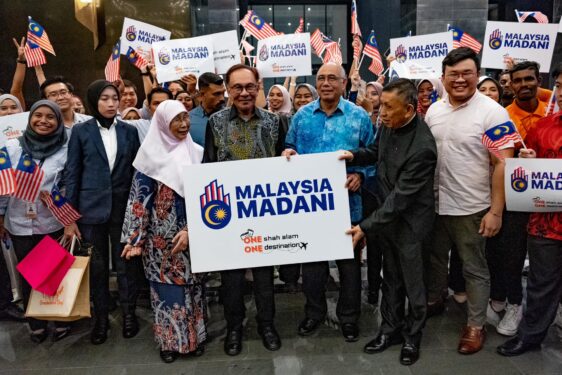 For the sake of continuity, Anwar's administration would not throw out the 12MP but as what we will see in the next two weeks, parliament will debate some of the new directions to be taken.
Some of the major issues such as the water woes affecting Kedah, Kelantan and Sabah are also being looked into. Anwar does not see Kedah and Kelantan in the same light as how DAP strongholds were neglected by the Barisan Nasional (BN) government in the past.
To address the long-standing issue affecting 20,000 contract doctors since 2016, health-related allocations saw a RM3 bil increase to RM19.7 bil. Within the next three years, at least 64% or 12,800 of these contract doctors will be absorbed into permanent positions.
Since the unity government was set up, Home Minister Datuk Seri Saifuddin Nasution Ismail told FocusM that his ministry has solved 9,539 ahead of his KPI of 10,000 cases of stateless people by 2023.
This figure is far more than the number of cases solved by few past home ministers combined.
Anwar's priority is also to build a country that is united instead of being torn apart by politicians fanning the 3R (race, religion and royalty) sentiments at will.
It is now up to the police and the Attorney-General's Chambers (AGC) to expedite the investigation and prosecution of the 3R perpetrators.
Since taking over Putrajaya, two of fugitive financier Low Taek Jho a.k.a. Jho Low's accomplices have returned voluntarily. Very soon, hopefully, the nation will see Jho Low himself being repatriated to face justice.
Following Deputy Prime Minister Datuk Seri Ahmad Zahid Hamidi's DNAA (discharge not amounting to dismissal), the powers of the Attorney-General (AG) have come to the spotlight with Anwar and his team having to push for separation of powers of the AG and the public prosecutor.
From that experience with former AG Tan Sri Harun Idrus, Anwar should realise how powerful the office of the AGC is given the former's decision to have the DNAA case expedited one day before his last day in office has even affected the mood in the recent Johor by-elections.
Impossible to put everyone behind bars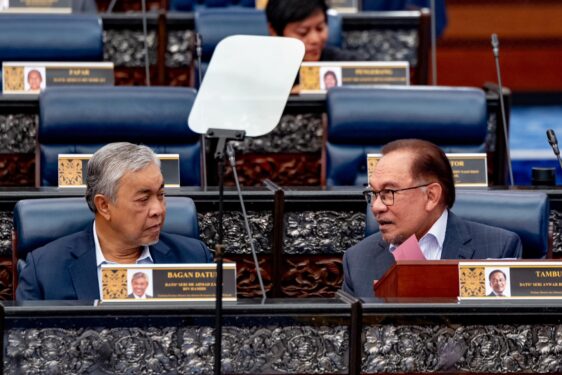 A lot more can be said about the reforms that have been introduced but the clarion call to fight against big time corruption cases is heard loud and clear. Given more time, we will see more corrupt politicians being put behind bars.
But one thing about Anwar is that it is not his game to have every corrupt person or his enemies behind bars. He has offered an olive branch more than once to his nemesis Tan Sri Muhyiddin Yasin and Tan Sri Hadi Awang to join the unity government.
His priority is to have everyone to work together to rebuild the nation. He even forgave former inspector-general of police (IGP) Tan Sri Rahim Noor who bashed him up while in prison.
Now, comparing Anwar's first year as PM, recall that his mentor-turned-nemesis Dr Mahathir could not even uplift the B40 out of the poverty cycle, abolish money politics in UMNO and build a Malaysian identity based on his nine challenges in Vision 2020 during his reign of 22 years and 22 months.
Dare we expect Anwar to deliver everything even in five years! Isn't that simply unrealistic?
Pic credits: Datuk Seri Anwar Ibrahim's Facebook