SABAH UMNO chief Datuk Seri Bung Moktar Radin has been dropped from chief minister Datuk Seri Hajiji Noor's new Cabinet following a reshuffle.
Tanjung Keramat assemblyman Datuk Seri Shahelmey Yahya from UMNO was appointed to replace Bung. Shahelmey is now the deputy chief minister and works minister – two portfolios that were previously held by Bung.
Shahelmey's previous portfolio of community development and people's welfare ministry is now held by Sugut state assemblyman from UMNO, Datuk James Ratib.
Barisan Nasional's (BN) Datuk Seri Jafry Ariffin and Datuk Yakubah Khan were also dropped from the new line-up.
Jafry previously served as the state tourism, culture and environment minister, and Yakubah was the state science, technology and innovation minister.
Sabah Pakatan Harapan (PH) chief Datuk Christina Liew will take over Jafry's portfolio while Membakut state assemblyman from Gerakan Rakyat Sabah (GRS) Datuk Mohd Arifin Mohd Arif will replace Yakubah as state science, technology and innovation minister.
Meanwhile, Sabah DAP secretary Phoong Jin Zhe is now the industrial development minister, a portfolio which was held by Datuk Dr Joachim Gunsalam in previous Cabinet.
Dr Joachim, who remained as one of the deputy chief ministers, is also taking over local government and housing portfolio.
Other portfolios remained as per status quo from the previous administration.
Three new Sabah cabinet members were sworn in at Istana Seri Kinabalu earlier today.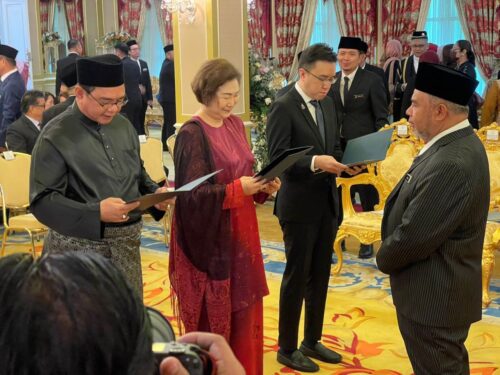 In a statement today, Hajiji said the Cabinet reshuffle was necessary to strengthen the state administration.
"There is a need for an inclusive administration. This is why I have included assemblymen from Pakatan Harapan into the Cabinet, alongside representatives from Barisan Nasional and Gabungan Rakyat Sabah," he remarked.
"It is important for the state government under my leadership to function as a united team based on mutual trust, respect and shared aspirations."
On Monday night, Prime Minister Datuk Seri Anwar Ibrahim met with Sabah political leaders and proposed for a unity government to be formed in the state.
The proposal was made following a political impasse stemmed from Bung's decision to withdraw BN's support from the GRS-BN pact, which previously administered the state. – Jan 11, 2023
Main pic credit: Bernama