MAIN Market-listed Resintech Bhd, a leading manufacturer of plastics pipes, water tanks and fittings, will embark on the provision of tanks for algae cultivation which is a key step in the production of sustainable jet fuel.
This comes as the group's wholly owned subsidiary Resintech Plastics (Sarawak) Sdn Bhd inked a memorandum of understanding (MOU) with SEDC Energy Sdn Bhd, a subsidiary of the Sarawak Economic Development Corporation (SEDC).
Witnessed by Sarawak Premier Tan Sri Abang Johari Tun Openg and SEDC chairman Tan Sri Abdul Aziz Husain, the MOU outlines the framework for a joint venture (JV) leveraging both entities' strengths and resources to operate in the plastic industry sector and contribute to the production of the world's first sustainable aviation fuel (SAF) from algae.
SAF produced from algae presents an environmentally friendly and efficient solution to the problem of greenhouse gas emissions from the aviation industry.
Unlike conventional fossil-based jet fuels, algae-based SAF is produced through a process of bio-conversion where the naturally occurring photosynthetic processes of the algae are harnessed to convert sunlight and carbon dioxide into lipids. These lipids are then harvested and refined into the final fuel product.
"This venture signifies our commitment to pushing the boundaries of what is possible in our industry," commented Resintech's managing director Datuk Dr Teh Kim Poo.
"Our partnership with SEDC Energys project represents a momentous leap towards a sustainable future. We are proud to be part of Sarawak's initiative to create the world's first SAF from algae."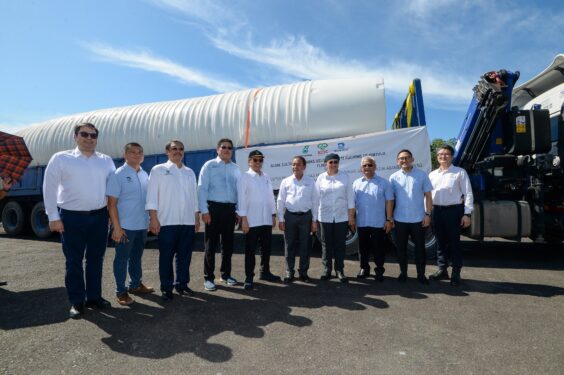 Resintech will provide the critical infrastructure needed for the cultivation of algae, the precursor in the production of the SAF. Known for pioneering the 'new renewable energy' ecosystem in Sarawak, SEDC Energy aligns perfectly with the state's vision of utilising cleaner energy resources.
"Through this partnership, we are keen to drive innovation in the renewable energy sector, supporting Sarawak's vision and contributing to global environmental sustainability," Teh pointed out.
He further noetd that Resintech's proposed JV with SEDC Energy underscores the group's strategic intent to expand its operations in Sarawak and to embrace innovative technologies and sustainability.
"We are eager to contribute to this revolutionary project which paves the way for greener aviation fuels," he added.
All-in-all, this is an exciting opportunity for Resintech, SEDC Energy and Sarawak as the resulting algae-based SAF is a revolutionary breakthrough as it is chemically very similar to traditional jet fuel and can be used in existing aircraft engines without modification, making it an easily integrated solution for reducing aviation's carbon footprint.
The MOU is intended to facilitate the exploration and examination of the JV collaboration, including providing assistance and expertise to expedite the progress of this project and ensure its success.
The execution of the JV collaboration is subject to necessary internal board approvals, legal and regulatory compliance, and any other obligations required by their respective companies.
At the close of today's trading, Resintech was up 1 sen or 1.85% to 55 sen with 847,400 shares traded, thus valuing the company at RM108 mil. – June 15, 2023