AS demand for the labour force revers to pre-pandemic levels, businesses are progressively returning to full-swing operations, therefore creating more job opportunities.
However, there is one critical difference in today's job market: the change in employee expectations, with employees today being much more aware of their options and are in a better position to decide on roles that align with their interests, values and priorities.
Among the different age groups, younger employees were found to prioritise career progression opportunities and a healthy work-life balance compared to employees from other age groups.
On this shift in employee expectations, PERSOLKELLY Malaysia country head and managing director Brian Sim commented that employees want to feel more relevant, connected and valued.
"In the post-pandemic world of work, it is important for employers to engage with employees to address challenges and shape solutions, together. It is a process that needs to be carried out effectively and continuously," he remarked.
Sim further noted that the employment landscape today is no longer what it once was. With the integration of Artificial Intelligence (AI) among other technological developments, new employment opportunities and challenges have arisen, with one primary example being the high demand across key economic sectors for talents skilled in digital fields.
Banking and financial services
With the prevalence of all things digital, accelerated further during the movement control order in Malaysia, contactless payments such as e-wallets and mobile banking saw a spike in consumer adoption.
In tandem with this demand, the Malaysian Government had introduced multiple initiatives to drive the Fintech boom and encourage more Malaysians to hop onto the growing digital economy.
As the industry continues to transform, the roles and requisite skills evolve in tandem. Taking this into consideration, employers need to look beyond hiring simply to fill roles.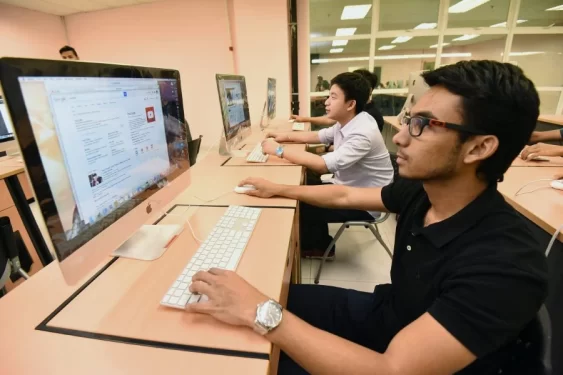 Instead, invest in upskilling programmes to ensure availability of talents fit to take on the evolving responsibilities at every level of the organisation.
On the other hand, those keen to join the industry will need to be able to learn, apply, and deploy emerging business models and technologies swiftly.
Individuals with cross-functional skillsets across finance and tech will be in especially high demand.
According to PERSOLKELLY Malaysia's recently-launched 2022/23 Malaysia Salary & Employment Outlook, specialised roles such as product development, product management lifecycle, data analyst and UI/UX specialist are some of the "hot" jobs to look out for in 2022 and 2023.
Information Technology (IT)
Without a doubt, technology has never been more important during and post-pandemic. In the business world, many organisations have since undertaken their own digital transformation and for this reason, the demand for skilled IT talent has been on the rise.
In addition to rapidly progressing fields like Cloud computing and Artificial Intelligence, purpose-driven digital solutions are being applied in most if not all sectors.
The unprecedented pace of digitalisation coupled with the Malaysian Government's push for digital consumer tools will continue to create more opportunities for those seeking roles in the IT field including digital entrepreneurial ventures.
On the flip side, this creates a highly competitive job market as organisations are expected to adopt a more aggressive approach in hiring the best talents.
This would mean employers who have an existing IT talent pool would also need to step up their talent retention strategies to avoid risks of losing talent.
Similarly, fierce competition within the industry serves as a reminder for the workforce to regularly reskill and upskill themselves with the latest technological advancements to stay relevant.
Supply chain and logistics
In 2020, with the onset of the pandemic, e-commerce experienced a boom when Malaysians from all walks of life became regular online shoppers due to the movement restriction orders.
Today, two years later, prospects remain strong for careers in the supply chain field as online shopping habits have become part of the new normal.
As the economy reopens, businesses will need to re-evaluate their strategy and remain on top of supply chain trends to fulfil customer satisfaction requirements while staying profitable.
Therefore, there is a growing demand for both white and blue collared workers, who are skilled to meet both the physical and technological demands of today's supply chain and logistics careers.
As such, employers need to relook their approach to attracting and retaining talents amid the shortage of skilled employees as highly-skilled supply chain professionals will continue to be sought after.
In the coming years, supply chain careers will continue to be one of the most resilient and candidates with the right skillsets can expect new growth opportunities.
In the post-pandemic world of work, industries have transformed, roles have evolved, and expectations have changed. With this, organisations that engage employees in shaping solutions and addressing challenges will continue to thrive.
"The employment market has shown a strong rebound since the country began its transition into the endemic phase," Sim pointed out.
"As our economy recovers against new global challenges, ensuring the resilience of the workforce is the way to go for businesses to thrive. To win in the marketplace, employers must first ensure they win in the workplace." – Oct 24, 2022
Main photo credit: Free Malaysia Today