TWO vocal human rights groups have expressed alarm over the proposed new sections, amendments and alternative punishments to the Terengganu Shariah Criminal Offences (Takzir) Enactment 2001, slated to be tabled at the Terengganu state assembly next month. 
The changes to the law, as announced by Terengganu Chief Shariah Judge Datuk Mohd Wan Zakri Wan Mohd on Wednesday (Oct 26), include introducing four new sections to criminalise witchcraft and black magic, out-of-wedlock pregnancies, women posing as men and attempted liwat (anal sex or sexual relations between men), and maximised existing sentences.
According to Wan Mohd Zakri, the state's Shariah Law Coordination Committee views these "improvements" as necessary given the increasingly complex cases dealt with by the state shariah courts on an annual basis, adding that shariah law as a whole will be strengthened in Terengganu as a result.
However, Sisters in Islam (SIS) and Justice for Sisters (JFS) said contrary to its intentions, the proposed "improvements" only "misrepresent" Islam as a punitive religion instead of the inclusive, progressive and tolerant religion that Islam is.
They also questioned the constitutionality of the proposed legal changes and claimed that they would violate international human rights law if passed. 
"For example, the four proposed new sections are in violation of the right to health, sexual and reproductive health and rights, privacy, identity and self-determination, freedom of expression, freedom of thought and right to education, among others," they said.
In a statement, SIS and JFS noted that these proposed legal changes will "undoubtedly" have a chilling effect on freedom of expression, in particular, and further discourage Muslim persons from questioning, challenging or even discussing matters of religion, "even when the application of the religion appear unjust and incongruous to the changing times and circumstances".
Besides that, the legality of provisions that criminalise sex against the order of nature and male persons posing as women, two similar provisions to the four new proposed sections in Terengganu, have been contested and found unconstitutional.
"Case in point: the Federal Court, in its constitutional review of Section 28 of the Selangor Shariah Criminal Offences Enactment, which criminalises sex against the order of nature, found the provision to be ultra vires as it violates Articles 73, 74 and 75 (of the Federal Constitution) in relation to federal and state jurisdiction in relation to law-making," they noted.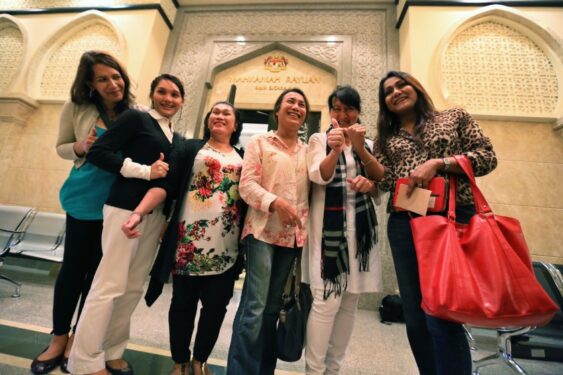 As for the criminalisation of pregnancy out of wedlock, the two groups noted that it has a "significant, systemic and long-term impact" on women and young people, with pregnant teenagers being denied access to education due to stigma and shame, resulting in them dropping out from school.
"Very low knowledge"
It also pointed to a nationwide study in 2015 that showed a very low knowledge among young people between 18 and 29 years old in preventing unplanned pregnancies and contraceptive methods aside from condoms and birth control pills.
"SIS and ARROW's research shows pregnancy and sex out of wedlock is one of the main contributing factors to child marriage in Malaysia," they added. "As such, the criminalisation of pregnancy out of wedlock also has a reciprocal effect on child marriage and contributes to an increase in child marriages."
Research and sexual reproductive health and rights advocates attribute fear of prosecution under the Penal Code and state shariah criminal enactments as one of the main factors that cause parents to abandon their babies.
"Additionally, it is not clear if the proposed amendments would take into account survivors who have become pregnant by sexual assault; criminalisation would surely deter such survivors from coming forward if they fear prosecution under the law," said SIS and JFS.
Similarly, the two groups said the new "improvements" will have harmful impacts on marginalised groups, including lesbian, gay, bisexual and transgender (LGBT) persons and Muslims of minority sects. 
"Our analysis of the 'alternative punishments' introduced in the Kelantan Shariah Criminal Offences Enactment 2019 has found that these punishments are still punitive in nature and imposed against acts that should not even be criminalised in the first place, raising concerns over further victimisation under the law," they noted.
"For example, rehabilitation is imposed against 34 'offences' under the Kelantan Enactment, including for exposing aurat (intimate body parts), being transgender and gender diverse (individuals who are prosecuted based on their gender expression and gender identity) and apostasy.
"These so-called offences are not criminal offences to begin with and punishing them with rehabilitation or community service could further result in deprivation of dignity and freedoms."
SIS and JFS recommended the Terengganu state Government and its Shariah Law Coordination Committee seek technical support from the Human Rights Commission of Malaysia (SUHAKAM), the Bar Council and sexual and reproductive health and rights groups in reviewing the compatibility of proposed "improvements" with the constitution and human rights and assessing its impact on affected communities.
The Terengganu state Government should also postpone its plans to table the "improvements" at the Terengganu state assembly in November pending the Federal Court decision on the constitutionality of the Kelantan Enactment, they added. – Oct 29, 2022
Main photo credit: Bernama