AS we usher in Year of the Tiger, perhaps we should walk down memory lane for a different kind of tiger – our home-grown goddess of tiger show, Rose Chan.
After all, many millennials may not know much about the late Rose Chan. They may only know social media celebrity, Siew Pui Yi, who appeared nude on the January 2022 edition of Penthouse magazine.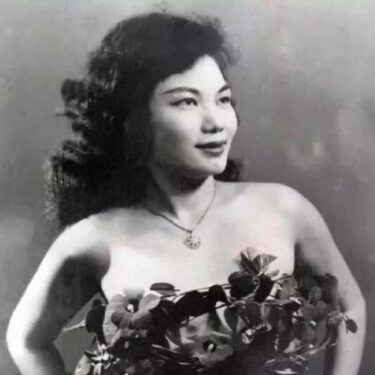 While Pui Yi leverages on the power of internet to become famous, it makes me wonder what would Rose Chan do in the digital era? Perhaps she didn't need this at all. Her striptease gimmicks and unconventional acts would have made her name big anyway.
Renowned as the Goddess of Tiger Show, Rose Chan ruled the stage in the 1950s with out-of-the-world striptease acts such as playing with pythons, pulling out a string of razor blades from her private part and opening up the Coca Cola cap.
But if these gimmicks were too common, how about circus stunts incorporated into acts such as bending iron rods stuck at the base of her throat and placing planks across her body while motorcycles rode over her body?
What a tiger show with a difference!
A star is born
Born in Soochow, China, Rose Chan came to Kuala Lumpur in 1931 at age six. When she turned 16, her mother forced her to marry an elderly rich Singaporean. He left her and soon, Rose found herself working as a cabaret dancer in Happy World. She then went on to be a runner-up of two coveted dance championships and became the toast of the cabaret.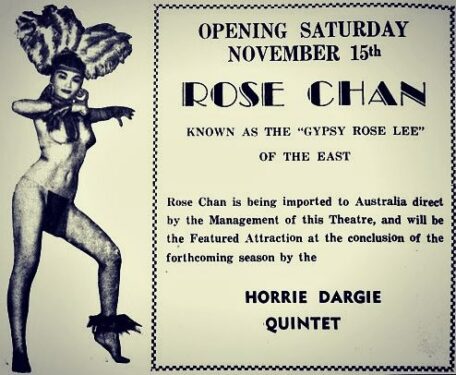 But the turning point of her career came when she was 27. Her brassiere snapped while dancing at the Majestic Theatre and thus, she earned roaring applause from the audience.
In her mind, she said, "Here, I dance all night and sweat so much, and nobody claps. My bra breaks and they clap." Rose Chan shot to fame overnight and this dramatic turn of event has inspired her to be the Queen of Striptease.
Let the show begin
If today, reality TV shows have become our staple of entertainment, a Rose Chan show in those days was considered the kind of entertainment parents won't want their kids to watch.
But the adults loved it. The show started with a bevy of scantily clad dancers dancing slowly to typical cha-cha and mambo rock music. Then, the minute a voice shouted "hoi" (which means "open" in Cantonese), they would strip naked.
Various sideshows would follow suit – from stand-up comedy, clown act, archery to fire-eating act and juggling – before Rose Chan finally came onto the stage.
The goddess would then sway her body gently to a slow music as she masterfully remove her clothing – piece-by-piece – while playing with pythons and teasing the crowd on the front seat. Well, I leave the rest of the details to your imagination.
But one thing is certain. Rose Chan brought her striptease acts to Kuala Lumpur, Penang and Alor Setar and would donate part of the proceeds of her show to charity like orphanage, old folks home, home for the blind and others. Hence, the Queen of Striptease has earned the moniker, the Queen of Charity, too!
The wilting Rose
As the political climate changed, so was Rose's career. Striptease acts were considered illegal and in 1967, she was banned from performing in Kuala Lumpur.
But this didn't stop her from performing. Rose went to Perth (Australia) in 1970 but was arrested for indecent exposure in public and prostitution. But with constant scrutiny by the Malaysian Government and the public at large, Rose officially announced her retirement in 1976.
If America has Gypsy Rose Lee – another famed stripper – Malaysia has Rose Chan. Hence, it was not surprising that an American publishing firm offered Rose RM3 mil for her autobiography but the deal fell through because Rose insisted on US$3 mil instead.
In 1980, Rose was diagnosed with breast cancer and succumbed to the disease in 1987 at the age of 62. She left behind her husband, a son and three daughters but her greatest legacy was obviously her illustrious career.
And perhaps Frankie Laine's hit song, Rose, rose, I love you which was said to be written for Rose Chan.
So as we welcome the Year of Tiger, let's not forget Rose Chan, too. May her soul rest in eternal peace considering her abundance of charitable deeds, always remembering to donate part of her proceeds for charitable causes.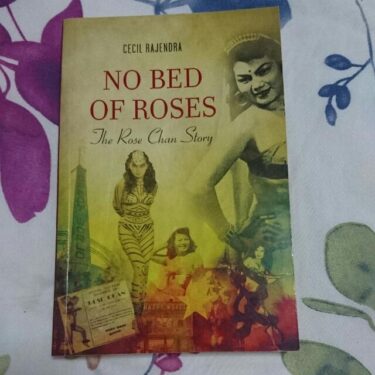 Gong xi fa Chai. – Feb 1, 2022
Francis Yip is an award-winning writer and Human Resource Development Fund (HRDF)-certified Trainer. He is also the CEO of Franciswriter Dot Com and WORDerful Learning Sdn Bhd and guest lecturer in The One Academy.
The views expressed are solely of the author and do not necessarily reflect those of Focus Malaysia.