THE 'hot-tempered' policewoman who raised eyebrows for her demeaning behaviour towards other lower ranking police officers and the public recently will be charged at the Selayang court in Selangor today.
In a series of incidents that have since gone viral, the police officer known as 'Inspector Shiela' is expected to face at least two charges under Section 506 of the Penal Code (committing criminal intimidation) and Section 186 of the same Code (obstructing a public servant), according to the New Straits Times.
The 35-year-old officer had previously irked netizens after two video clips with the duration of 24 and 10 seconds, were uploaded on social media showing her berating a lance corporal in Gombak, Selangor.
Following that, she was summoned by the Selangor police to have her statement recorded before she was detained at the Gombak police headquarters for the incident.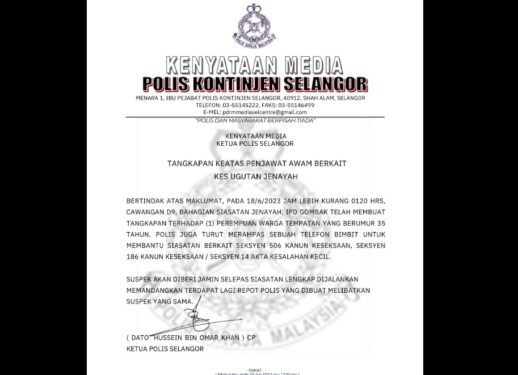 It was previously reported that the police confirmed that it had received a report on an incident where a police officer known as Inspector Sheila was involved in an argument with the public at the parking lot of a shopping centre in Brickfields.
At a media conference on Thursday (June 22), Home Minister Datuk Seri Saifuddin Nasution Ismail said the officer have been suspended until the investigation process is completed.
He said her statement was recorded on June 18 and two investigation papers have been submitted to the Bukit Aman's Classified Crime Investigation Unit on June 19.
He said a total of six disciplinary investigation papers were opened by Bukit Aman's Integrity and Standard Compliance Department on the cases involving the officer. – June 26, 2203