IN conjunction with yesterday's (Sept 11) 12th Malaysian Plan (MP) mid-term review presentation in the Dewan Rakyat, fugitive blogger Raja Petra Kamarudin (RPK) has – for whatever vested interest he has – warned Malaysians that Prime Minister Datuk Seri Anwar Ibrahim has no clear-cut measures to bring Malaysia out from the current economic doldrums.
The pro-Perikatan Nasional (PN) mercenary blogger further chided the Finance Minister for "harbouring many intentions and goals" but "has no proper or inadequate action plan and blueprint".
"Anwar has no answers to how, when or who (to solve current economic woes) … he can only hope but is unable to guarantee that his plan will work out," opined RPK in a recent 12:48 duration video clip.
"He doesn't take into account global situation like the latest developments in the Russia-Ukraine war now that China, North Korea and even Arab states are uniting to support Russia.
"The cost of the war is very high and if the focus is switched to the war as opposed to grievances of the rakyat, the global economy will face setback and Malaysia will be negatively impacted with the rakyat bound to suffer."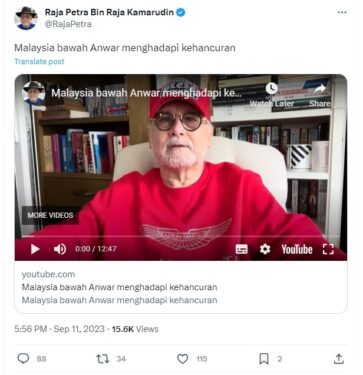 RPK who is believed to be residing in Manchester, UK further stressed that Anwar's economic formula needs to take into account global situation given many big companies in Europe and US are going bust or facing bankruptcies on a daily basis, leading to closure of their store chains and unemployment of tens of thousands of their workforce.
"There is bound to be spill-over effect even if this happens abroad for the buying power of the people will be adversely impacted when unemployment hits. Eventually, the export of Malaysian goods will shrink due to globalisation effect; local manufacturers will be forced to reduce their production which will eventually take a toll on their revenue."
RPK went on to remind Anwar that he "is no longer managing a booming economy situation like what Dr Mahathir (twice former premier Tun Dr Mahathir Mohamad) did" but "is instead managing an economy in crisis".
Anwar's populist stance a bane
"Even Mahathir would encounter hardship to manage such economy …. We are not talking about taking off which is easy but about crash landing; is Anwar level enough to manage a crash landing?" asked RPK who is very pessimistic about Anwar's economic acumen.
"Anwar only harps on politics, politics and politics but has no clue whatsoever on how to overcome the nation's economy problems … When you want to manage an economy in crisis you've to be brutal; you can't play populist politics like eliminate tolls, GST (goods and sales tax) or offer free hand-outs and grants."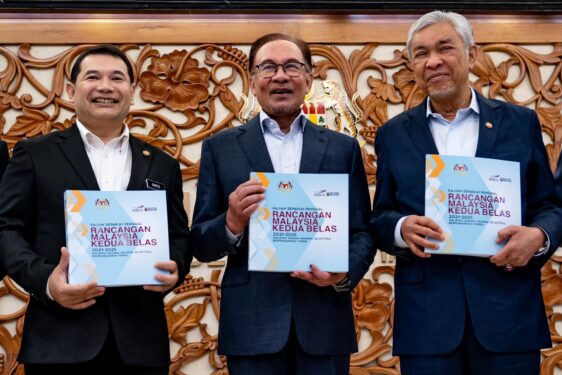 With PETRONAS' dividends in the midst of "drying up", RPK projected that it will be difficult for Malaysia to be spared from the economy-in-crisis syndrome whereby "Anwar's populist economic policies will destroy the Malaysian economy with the hardship faced by the people due to escalate in view of his half-baked policies".
"An economy in crisis needs long-term planning of at least five years but if you want to achieve quick results, then you'll sacrifice the long term. Indeed, Anwar won't sacrifice short term because he wants to be popular for he knows that his position as PM is unsafe given both PKR and PH don't have enough seats."
At this juncture, RPK reckoned that should the national economy collapse, everyone in the government will be blamed. "But Sabah and Sarawak which are unwilling to shoulder the blame for the miscalculation and stupidity of the Federal government led by Anwar are likely to go separate ways," observed RPK.
"Beware that the end is coming which will be determined by how far the rakyat can endure economy hardship or suffering. A revolution whether it is French, Bolshevik or Cuban always starts on an empty stomach … When that happens, the first victim to go is the government of the day," added RPK. – Sept 12, 2023