SINCE starting as a modest provider of occupational safety and health products in 2003 as Safetyware Sdn Bhd, the company has always been guided by several core principles that have allowed it to expand its operations internationally.
These guiding principles have also seen it grow into a public-listed company – Safetyware Group Bhd (Safetyware) – in the space of two decades, making it the leading provider of workplace safety solutions in the country. 
Safetyware started as an agent, distributor and importer and exporter of Personal Protective Equipment (PPE), and now has its own production line to produce different kinds of safety and personal protective equipment. 
Safetyware founder CEO Wong Kee Wei believes that a firm commitment to stringent quality standards has been key to the company's continuous success and growth.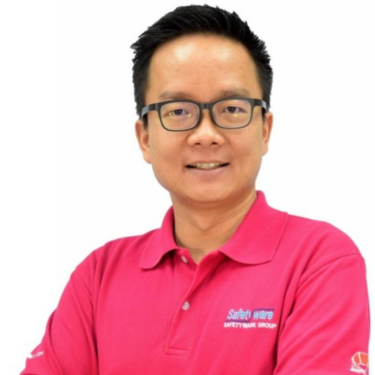 He pointed to an early incident that marked Safetyware as a company with a firm commitment to quality control.
During its early days in Penang, Safetyware sold safety shoes that were manufactured in China. While initial batches were of high quality, defects were later detected in subsequent shipments.
Though the defects were not widespread or serious, Wong took the decision to destroy the entire shipment to a loss of several hundred thousand ringgit. 
"This was a big blow to us back then but I made the decision that product quality was of the utmost importance and had to be maintained," says Wong.
"In hindsight, that decision has served us well as the marketplace took note and saw that Safetyware would not compromise on quality assurance standards. This helped establish Safetyware's reputation as a leading provider of occupational health and safety solutions," he added.
"Not just a mere wholesaler"
Wong was also keen to point out that Safetyware is not a mere wholesaler of safety and personal protection equipment (PPE) products.
"We (also) work closely with our clients to diagnose potential workplace hazards and offer the right solutions,' he explained.
"The design of stylish and practical products is just the tip of the iceberg when creating a safe workplace. Safetyware offers comprehensive solutions by combining all the pertinent factors to make safe workplaces and conducive environments that minimise workplace injuries." 

It is an unfortunate fact that many organisations merely pay lip service to occupational safety and health simply as a means to avoid fines by the authorities; meeting the bare minimum in this area is seen as a cost-cutting exercise.
However, this is not how Safetyware operates as it always insists on providing the very best solutions that will benefit a client and its employees.
Wong said that Safetyware provides solutions that "you can trust your family's well-being with" as they ensure no corners are cut.
It is with this approach that has seen Safetyware provide health and safety products and services to over 9,000 workplaces domestically and also seen it expand its market overseas.
Not only that, but many of Safetyware's domestically-manufactured products have also met the regulatory standards in countries such as Singapore, Australia and the US as well as the European Union (EU), highlighting the quality of Malaysian products.  
Wong added that he believes the recent listing on the LEAP Market of Bursa Malaysia is timely as markets reopen and industries across ASEAN start their post-COVID-19 pandemic recovery.
"Safetyware is ready to meet the challenges of the 'new normal' by providing health and safety solutions of the highest standards," he stated. "We will not rest on our laurels when there is room for improvement." — Sept 18, 2022