MALAYSIA'S leading Personal protective equipment (PPE) manufacturer and supplier Safetyware Group Bhd (Safetyware) has made its debut on the LEAP Market of Bursa Malaysia on Sept 9, 2022.
Upon the announcement of the listing date, the Group's chief executive officer Wong Kee Wei shared that the main purpose of getting listed in Bursa Malaysia is to tap into the capital market to supercharge the company's growth.
"In addition, being a listed entity will also ensure better corporate governance and provide better career development opportunities for our employees," he remarked.
He went on to say that the funds raised from the listing exercise will be used on the expansion of their current manufacturing division and trading and distribution division, which include the addition of production lines to their safety footwear production, the expansion of manufacturing facility for their hygiene and sanitisation products, the setting up of distribution centres in Selangor and Johor, among others.

Wong also touched on plans moving forward, detailing that the group plans to grow their export sales to account for at least half of their total revenue, and to focus on the market development in Souteast Asia.
"Considering that the ASEAN region is one burgeoning with economic and industrial development, Safetyware aspires to become the leading occupational safety and health solution provider in Southeast Asia," he added.
Founded in 2003, Safetyware first started PPE distributions to Penang before expanding its reach to markets overseas.
With a surge in demand, Safetyware began to produce safety shoes in 2006 with the principal aim of serving customers better with wider range of safety products.
In a bid to offer its customers comprehensive health and safety solutions, Safetyware ventured into safety training and consultancy services by establishing Safetyware EHS Consultancy Sdn Bhd in 2011.
In 2019, Safetyware set up Keyway Technologies Sdn Bhd specialising in digital solutions such as Enterprise Asset Management (EAM) mobile application that can enhance the daily operations of small and medium enterprises (SMEs).
To meet growing demand, Safetyware expanded its operations to include nine sales offices and three factories in 2022.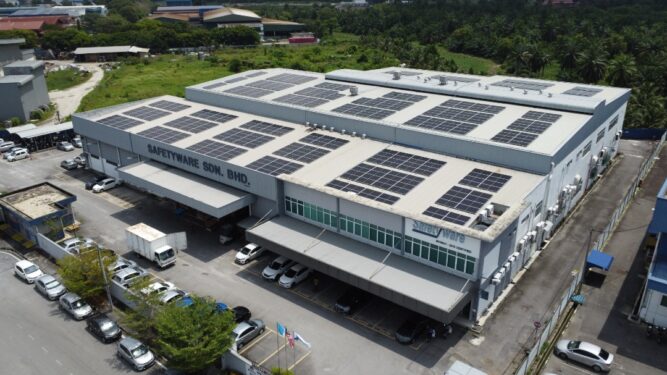 The latter produces SIRIM-DOSH-certified safety footwear, masks and respirators, safety apparel, hygiene & sanitisation products, plastic injection safety products (helmets and ear muffs), disposable PE/PP safety products (gloves and shoe covers), as well as signages and labels.
Safetyware provides a comprehensive range of PPEs by supplying over 3,000 types of safety products and services to more than 10,000 industrial and commercial customers in Malaysia as well globally.
It carries various renowned and safety standards-certified brands that are leaders in the PPE industry such as 3M, Honeywell, MSA, Sundstrom, Ultitec, and more.
Safetyware is also the authorised distributor of ZOLL automated external defibrillator (AED) which can be found in public places such as KOMTAR, Penang Hill, Penang Youth Park, Gurney Drive, Karpal Singh Drive, and other government buildings.
When COVID-19 started in 2020, Safetyware was able to provide immediate aid to the public and frontliners by supplying critical and essential PPEs such as coveralls, masks and respirators, face shields and gloves. – Sept 9, 2022