DATUK Seri Salahuddin Ayub is one cabinet minister who will be missed by many who have been following his news.
A former state exco of Selangor, Datuk Lum Weng Keong said: "Sad to hear of his untimely death. He is one of the hardworking minister. May he RIP."
A journalist with the New Straits Times, Dennis Chua said that Salahuddin is "one of the best men we have ever had. Gone too soon like (former Deputy Prime Minister) Tun Dr Ismail."
On most occasions, the Minister of Domestic Trade and Cost of Living would respond promptly to any Whatsapp messages sent to him. Even when it was just a piece of information sent to him, he would respond with a short answer "TQVM".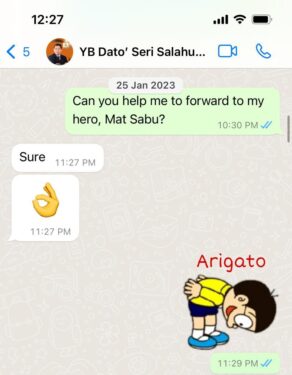 In the past one week, he had been unusually silent. There was not much news about his health condition until two days ago, when he was rushed to Hospital Sultanah Bahiyah in Alor Setar, Kedah at 10.15pm on Saturday (July 22).
The 61-year-old Amanah deputy president had to undergo surgery on Sunday morning (July 23) after being diagnosed of suffering from a brain haemorrhage. Within less than 24 hours after the surgery, Salahuddin had passed on.
But he leaves behind a legacy as a minister who – together with his deputy minister – Fuziah Salleh are always willing to listening to people's grouses and addressing their issues using his ministerial powers.
Prompt response
This writer took the trouble to set up a Whatsapp Chat group to gather complaints on the ground and channelling a summary of the complaints to both minister and deputy minister.
And Salahuddin would always be the one to respond in the affirmative, showing his commitment to solve problems.
His ministry championed the concept of Menu Rahmah at RM5 a meal which may be frowned upon by some restauranteurs but those who are able to think out of the box are able to make good profits when they are able to suddenly tap on a niche market.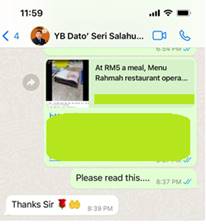 A Malay friend described Salahuddin as "someone who understands Malay ethics and value system very well."
For that reason, Salahuddin was a big contrast to the character of caretaker Kedah menteri besar Datuk Seri Muhammad Sanusi Md Nor. He defended the claim that the prosecution of Sanusi was not a form of selective prosecution by the Madani government, and unlikely to create any green wave of significance.
"The Malays understand the values of human behavior related to good norms and ethics in life (akhlak dan budi pekerti) which are befitting a Malay but when Sanusi's sassy words were uttered against the Sultan, I believe it will not turn into one big green wave that causes the rakyat to support such politicians."
The reason why he went to Kedah was because he believed that the unity government led by Datuk Seri Anwar Ibrahim has a good chance of winning the state of Kedah in the coming state election.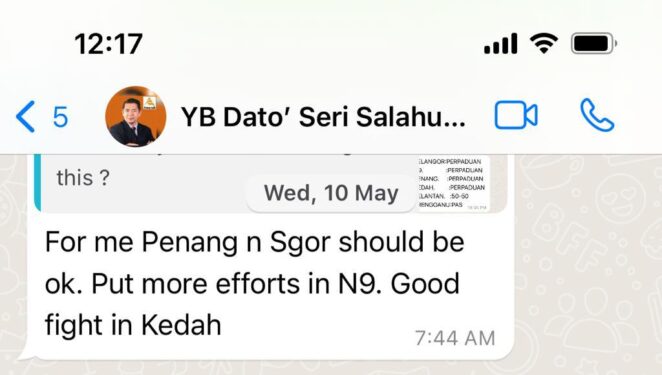 When the former two-term Pulai MP first heard about the numerous complaints people had regarding contactless smart card Touch 'n Go, he immediately swung into action to rectify the various issues.
Where the company was notorious in not responding to complaints, especially over the refund issue, they had to immediately respond to old complaints received.
Unlike former two-time premier Tun Dr Mahathir Mohamad who has been in denial of his Indian roots, Salahuddin who has an ethnic Malay-Peranakan Chinese parentage never had any qualms acknowledging that he had Chinese blood.
In one conversation with this writer, he explained this was the reason why he looked Chinese to a lot of his friends.
Salahuddin passed on at 9.23pm at the Hospital Bahiyah, Alor Setar on July 23.
At the time of writing, national news agency Bernama reported that family members and friends have started paying their last respects to Salahuddin at his mother's home in Kampung Serkat, Tanjung Piai in Pontian since 7am today (July 24).
His remains had arrived at the Senai International Airport cargo terminal at about 2.30am via a MAS special flight. He is expected to be laid to rest at his hometown at the Jalan Sulong Muslim Cemetery in Pontian at 12 noon today.
The late Pakatan Harapan (PH) chairman leaves behind a wife Fatimah Taha and six children. – July 24, 2023
Main pic credit: kiniTV