THIS is certainly a genuine case of "God loves him more" for it was just moments in between Health Minister Dr Zaliha Mustafa denying speculation of Domestic Trade and Cost of Living Minister Minister Datuk Seri Salahuddin Ayub's demise and his actual passing.
"Received sad news about the demise of my friend DS Salahuddin Ayub immediately after having returned from visiting Allahyarham's family at Sultanah Bahiyah Hospital in Alor Setar," she posted on the Health Ministry's Facebook (FB) page.
"I apologise for the delay in receiving the news because I was on my way to the Kuala Perlis Jetty to get to Pulau Langkawi for a work trip. Malaysia lost a leader who cares for the people's interest. Al-Fatihah."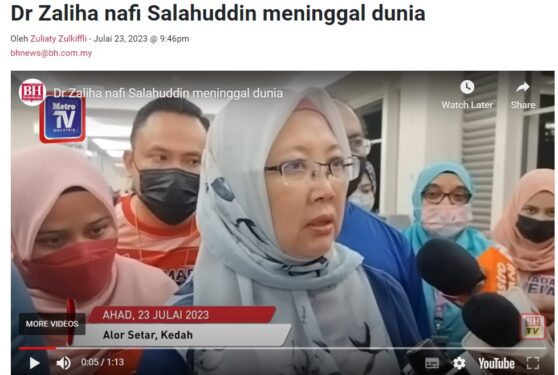 For context 61-year-old Salahuddin who was the two-time Pulai MP and Johor Pakatan Harapan (PH) chairman breathed his last at 9,23pm according to a FB post by his daughter Siti Fatihah. He left behind a wife and six children.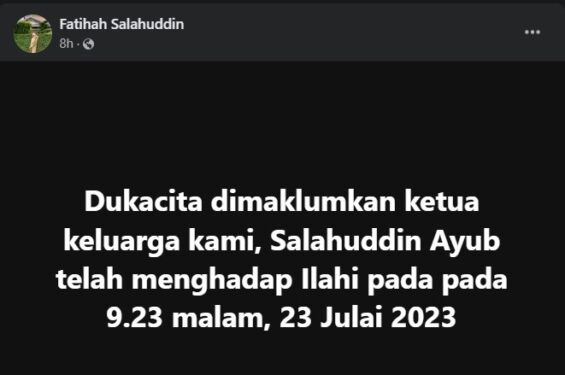 Most remembered as the brainchild behind the Menu Rahmah affordable meal targeting the B40/low-income group, the Amanah deputy president and Johor Pakatan Harapan (PH) chairman was rushed to hospital on Friday (July 21) where doctors detected a brain haemorrhage.
He underwent emergency surgery and was reported to be in stable condition yesterday (July 23) morning.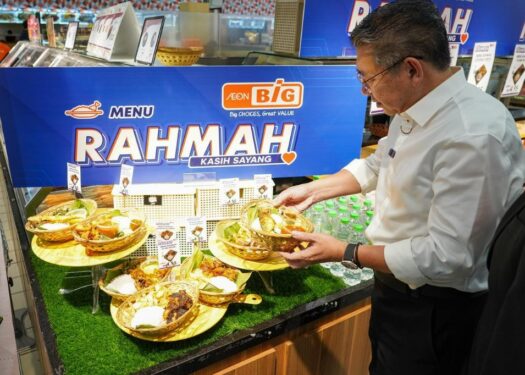 "Personally, this is a great loss for me and my family for brother Salahuddin stood firm together in this long struggle until the end of his life. His service and kindness certainly cannot be repaid materially," penned Prime Minister Datuk Seri Anwar Ibrahim in a condolence message posted on his FB page.
"He is known for having a high personality attitude whether to friends or opponents. A strong figure who worked hard and was very obedient to trust and responsibility. Rest easy, my friend."
Among tributes from his comrades that caught the eye was that from PKR Bayan Baru MP Sim Tze Tzin:
"Sim, do you know why I'm content and happy every day? Every night before I sleep, I forgive all my enemies and the people who hurt me … then I sleep," penned Sim who was the agriculture and agro-based industry deputy minister when Salahuddin was the minister prior to the collapse of the PH administration in February 2020 on his FB page.
"This is the teaching of my former boss DS Salahuddin Ayub to me. He was so kind and friendly … 😩 Earlier in the evening (July 23), I had a chance to visit him before he left us for good. I cried all the way from Alor Setar to Penang. My heart was broken. 😭
"Hope the Boss is okay there. Al-Fatihah."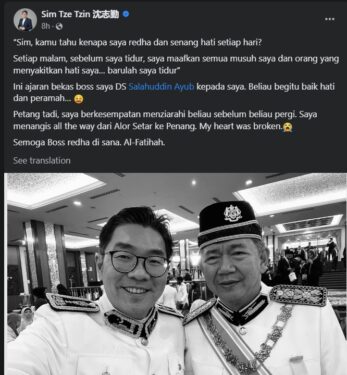 Added retired DAP supremo and veteran lawmaker Tan Sri Lim Kit Siang:
"The nation has lost a great Malaysian son with the death of Amanah deputy president and Domestic Trade and Cost of Living Minister Salahuddin Ayub. Salahuddin was most approachable and down-to-earth (person) who could look after the interests of all Malaysians regardless of race or religion.
"If Malaysia is to rise again and become a world-class great nation, we need more Salahuddin Ayubs, both in the political and other arenas in the country."
Salahuddin is expected to be laid to rest at his hometown in Pontian, Johor at 12 noon today (July 24), at the Jalan Sulong Muslim Cemetery. – July 24, 2023
Main pic credit: Datuk Seri Anwar Ibrahim's Facebook