CONTROVSERIAL Datuk Seri Muhammad Sanusi Md Nor who has just been sworn in as the Kedah Menteri Besar for a second time wants the Federal government under the leadership of Datuk Seri Anwar Ibrahim to respect the wishes of Kedahans who have accorded the Perikatan Nasional (PN) coalition the mandate to helm the state.
The Jeneri state assemblyman also made a similar appeal to Home Minister Senator Datuk Seri Saifuddin Nasution and Economy Minister Rafizi Ramli.
"Don't pretend you don't understand the mandate Kedahans have given to PN. Don't try to deny it, don't try to brush that aside or try to force your way," he told the People's Mandate Assembly at the Kedah PAS Complex in Kuala Kedah last night (Aug 13).
"Do not try to punish Kedahans for rejecting you. We have to accept that this as part and parcel of the democratic system. When the people choose one party, the other side has to agree and accept such outcome. Don't try to be narrow-minded."
Added the PAS warlord and PN election director: "For both the state and federal levels, you have seen what do the people want and who do the people believe in? Whose struggle do the people accept?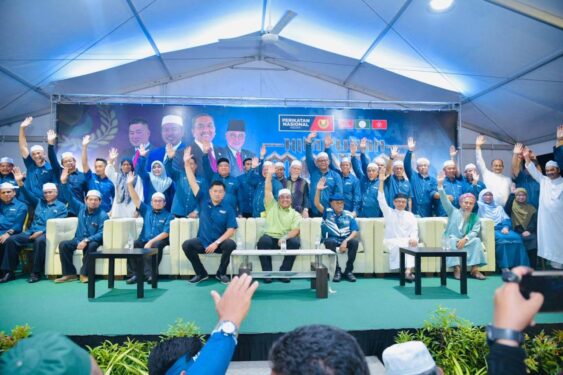 "You have seen for yourself, so don't try to blind your eyes by not fulfilling their wishes. As an enforcement agency or approving agency, please consider the voices of Kedahans in the context of democracy."
For the record, PN dominated Kedah in Saturday's (Aug 12) state poll by winning 33 out of 36 state seats. Sanusi himself won with a somehow a landslide majority of 16,050 votes by toppling his Barisan Nasional (BN) opponent Datuk Muhamad Khizri Abu Kassim by 21,823 votes against the latter's 5,773 votes.
Asked to comment on PN's political opponent who lost in the state poll, Sanusi recalled the advice given by former Kedah PAS commissioner, the late Tan Sri Azizan Abdul Razak.
"You mustn't hurt their feelings, Ustaz Azizan told me. The people who have lost in the election have already collapsed, so it's inappropriate to step on their head until their moustache touches the ground," he philosophised.
"We only wish them do have a deserving rest. Some of them should have already retired. They've already tried contesting for the parliamentary seat but failed, then yet again failed at the state assembly level."
"The truth is that this is not your personal failure but the failure of your struggle by trying to force something onto Kedahan which they cannot readily accept. Have a good rest," he added. – Aug 14, 2023
Main pic credit: Bernama