ESTEEMED former Aliran Kesedaran Negara (ALIRAN) president P. Ramakrishnan has criticised the authorities over the timing of the arrest of caretaker Kedah Menteri Besar Datuk Seri Muhammad Sanusi Md Nor.
What happened in the wee hours of Tuesday morning reminded many of the detested days of the Internal Security Act (ISA) when the police would come knocking at the door at an unearthly hour and haul away the suspect in a disconcerting manner, according to the ALIRAN member since the movement's inception in 1977.
"Sanusi deserved to be punished but he did not deserve to be arrested in the wee hours of the morning," penned Ramakrishnan in an opinion piece posted on ALIRAN's website. "There is no justification for this. He wasn't a flight-risk person. In any case, where could he run to?"
Despite the ISA having been repealed, he lamented that "the police – it would appear – had been conditioned by it".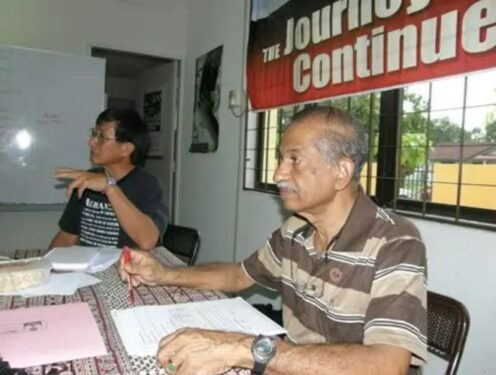 "This practice of picking up a suspect at will in the early hours of the morning should have been discarded. Obviously, bad habits die hard," berated Ramakrishnan who was ALIRAN's president from 1994 to 2011.
"Couldn't they have served Sanusi charge papers and left, expecting him to turn up at the stated time and place? If he had failed to turn up in court, the court could have issued a warrant of arrest against him. This would have given the police legitimate reason to arrest him."
Added Ramakrishnan: "If this was followed, nobody would have blamed the police for acting high-handedly. The image of the police force would not have been tarnished. Now, the police are forced to be on the defensive by trying to justify themselves."
In all fairness, Ramakrishnan also took a swipe at the PAS warlord and Perikatan Nasional (PN) election director "for having created some doubt which isn't good for the police".
"Sanusi's latest version of what happened – that he was in contact with the police "from between 10pm on Monday (July 17) and 2am on Tuesday (July 18) and has the WhatsApp messages in his possession to prove it" – contradicts the Inspector-General of Police's (IGP) explanation that police calls were not picked up," Ramakrishnan pointed out.
"Many are wondering what really is the truth! We hope the arresting of Malaysians in the future – for whatever reason – will not occur in the unearthly hours of the morning – unless the arrests are time-sensitive." – July 20, 2023