IN a proactive step towards fostering Malaysia's cyber resilience, Velum Labs Sdn Bhd (Velum Labs) – a subsidiary of Sapura Group – and the National Cyber Security Agency (NACSA) strategically strengthen, promote and develop national cyber capabilities through sharing of cyber intelligence and implementation models.
Both parties forged their collaboration today by inking a memorandum of understanding (MOU) witnessed by Deputy Prime Minister Datuk Seri Fadillah Yusof in conjunction with the launch of the Cyber Defence & Security Exhibition & Conference 2023 (CYDES).
The MOU acknowledges the prominence of proven Malaysian capabilities in a critical industry such as cyber security. With that, Velum Labs will be a partner to NACSA and the National Security Council (MKN) in their role as the lead agency to monitor and enforce laws pertaining to cyber security.
In fact, today's event marks significant progress for Velum Labs following a successful show at the recent Langkawi International Maritime & Aerospace (LIMA) exhibition where it unveiled and launched V-Dark, a locally developed next-generation cyber intelligence solution.
The said solution is specially designed to combat high-end threats such as advanced persistent threats (APT) groups, organised financial crime syndicates and other adversarial targeting enterprises.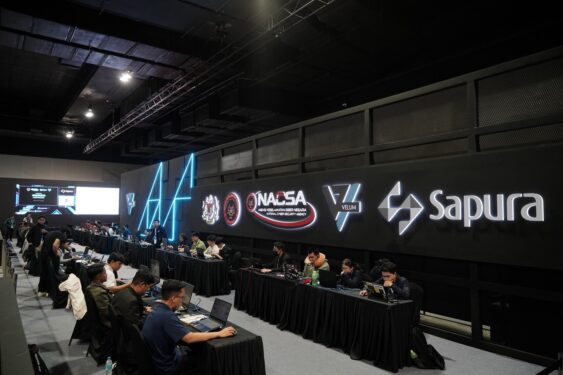 The end goal at Velum Labs is to revolutionise cyber security as a core economic output of Malaysia in this digital age through inward investment of enhanced training and having the best tools to compete with international competitors.
Other international joint partnerships with Velum Labs further demonstrate that Malaysia is now recognised as a key provider for cyber intelligence with expected significant growth in this area in both ASEAN and international markets.
Recognising the importance of human capital development specifically in a niche sector like cyber security, Velum Labs and Sapura are also the main sponsors for the Capture the Flag cybergames which will be held at CYDES 2023.
This national cyber competition will see 10 teams of four from 10 local universities compete to represent Malaysia at the upcoming CyberSEA games in Bangkok Thailand at end-2023.
Founded by Tan Sri Shahril Shamsuddin, Velum Labs stands as the biggest exhibitor at CYDES 2023, showcasing its home-grown Tier-1 cyber intelligence capabilities built and operated by local cyber analysts, data scientists & software architects.
Organised by MKN, NACSA and Alpine Integrated Solution Sdn Bhd, CYDES 2023 aims to bring together relevant stakeholders to shape Malaysia's cyber security agenda. – July 10, 2023