SARAWAK Cable Bhd which claimed to be Malaysia's largest cable & wire producer has become the 26th Practice Note 17 (PN17) Main Market-listed company on Bursa Malaysia after having triggered the criteria pursuant to Paragraph 2.1(d) of PN17 of the Main Market Listing Requirements (MMLR).
This came about on Sept 30 after its external auditor Ernst and Young PLT (EY) expressed a disclaimer of opinion on the Kuching-headquartered company's audited financial statements for the 17-month period ended May 31, 2022 (FY5/2022).
On plan to regularise the company's condition, Sarawak Cable said the High Court of Sabah & Sarawak had allowed its application pursuant to Sections 366 and 368 of the Companies Act 2016 for the company and six of its subsidiaries to call for a court convened meeting(s) for their creditors to iron out a likely arrangement scheme.
The six subsidiaries comprised (i) Universal Cable (M) Bhd; (ii) Leader Cable Industry Bhd; (iii) Universal Cable (Sarawak) Sdn Bhd; (iv) Sarwaja Timur Sdn Bhd; (v) Trenergy Infrastructure Sdn Bhd; and (vi) Aerial Power Lines Sdn Bhd.
"The order also allows the applicants and the scheme creditors to negotiate and finalise the terms of the proposed scheme of arrangement without the potential threat of any proceedings and actions being brought against the applicants in the interim," Sarawak Cable pointed out in a Bursa Malaysia filing dated Sept 29.
"The company is in the midst of formulating a regularisation plan to address its PN17 status in tandem with the proposed scheme of arrangement and the announcement on the same will be made in due course in accordance to the MMLR."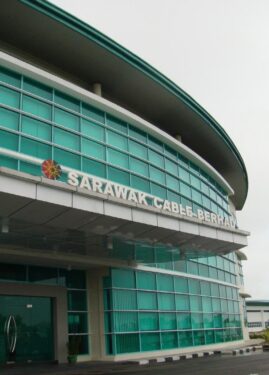 Meanwhile, Bursa Malaysia Securities Bhd said it would continue to monitor the progress of Sarawak Cable in respect of its compliance with the MMLR.
"As of Oct 3, there are a total of 27 companies under PN17 (26 companies) and Guidance Note No. 3 (GN3) of the ACE Market Listing Requirements (one company) which represent 2.88% of the total number of 939 companies listed on the Main and ACE Markets of Bursa Securities," revealed the stock market regulator.
The 26 PN17 companies are (1) Airasia X Bhd; (2) Asia Media Group Bhd; (3) Barakah Offshore Petroleum Bhd; (4) Bertam Alliance Bhd; (5) Capital A Bhd (formerly AirAsia Group Bhd); (6) China Automobile Parts Holdings Ltd; (7) Comintel Corp Bhd; (8) Dolomite Corporation Bhd; (9) E.A. Technique (M) Bhd; (10) FSBM Holdings Bhd; (11) Iqzan Holding Bhd; (12) Ireka Corp Bhd; (13) Ivory Properties Group Bhd; (14) Jerasia Capital Bhd; (15) Khee San Bhd; (16) Konsortium Transnasional Bhd; (17) Malaysia Pacific Corporation Bhad); (18) Perak Corporation Bhd; (19) Propel Global Bhd (formerly Daya Materials Bhd); (20) Sapura Energy Bhd; (21). Sarawak Cable Bhd; (22) Scomi Energy Services Bhd; (23) Scomi Group Bhd; (24) Seacera Group Bhd; (25) Serba Dinamik Holdings Bhd; and (26) Top Builders Capital Bhd.
The only one GN3 status company is G Neptune Bhd.
At 12.05pm, Sarawak Cable was down 1.5 sen or 25% to 4.5 sen with 3.92 million shares traded, thus valuing the company at RM18 mil. – Oct 4, 2022
Main photo credit: Sarawak Cable